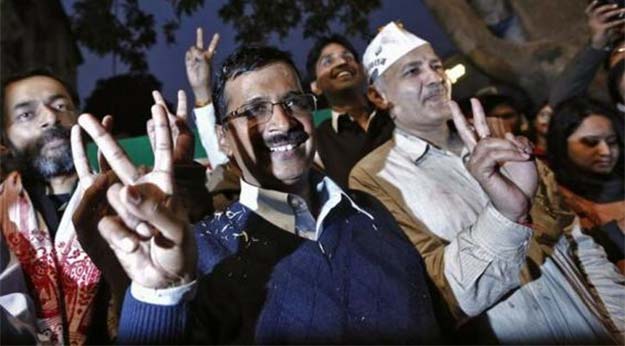 Two days, two new big inductions from India Inc. Arvind Kejriwal's Aam Aadmi Party is now charming hotshot corporates into exchanging their business suits for the white Gandhi cap.

Former Infosys Director V Balakrishnan joined AAP on Wednesday, while former Royal Bank of Scotland CEO Meera Sanyal joined the party a day later.

Mr Balakrishnan's former colleague at Infosys and prominent member of India Inc Mohandas Pai speaking to NDTV said, "They are joining politics now for a very important reason...there is a deep sense of anger and frustration about the high inflation, bad governance that has happened in the past 4-5 years."


During the last fiscal 2012-13, the country's economy grew at a decade-low 5 per cent. Even for the current fiscal year that ends March 2014, growth is likely to be flat. Inflation hit a 14-month high of 7.5% in November.
"They (AAP) have revolutionised politics in this country, I'm fascinated with it," Mr Balakrishnan had said after announcing his membership of AAP. (
Also Read: Infy rejigs top brass
)
While Mr Balakrishnan's entry into politics came as a surprise to many, Ms Sanyal's wasn't as big a surprise as there was already word on the Street that she may join the party after having campaigned for AAP in the run-up to the Delhi polls.
Mr Pai said AAP's spectacular debut in the Delhi elections bears testimony to the fact that people want a change. "...the UPA has let down the people of this country...it's very very clear and people are angry and upset. They want an alternative. (Narendra) Modi was an alternative that came. But AAP usurped the Modi alternative to an extent in Delhi and may be in the urban areas," Mr Pai said.
AAP won 28 seats in Delhi, second only to the BJP and has now formed government with party chief Arvind Kejriwal as chief minister.
The party has now said it will contest Lok Sabha elections due by May and is on a recruitment drive across the country.