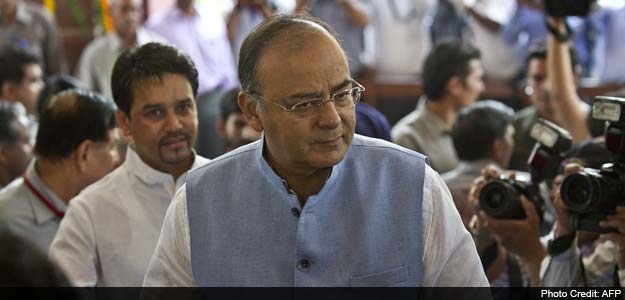 The Modi government has won a massive mandate to revive the economy and create jobs in the country as the country is facing its worst slowdown in over 25 years, with gross domestic product (GDP) growth of less than 5 per cent. India's economy must grow at over 8 per cent to provide jobs for the millions people that enter the workforce every year.
A majority of India's workforce consists of unskilled labour that has traditionally been absorbed by the manufacturing sector. However, manufacturing sector's contribution to India's GDP has remained largely stagnant at around 15 per cent of GDP for many years.
Manufacturing contributed 15 per cent to India's GDP in 2011-12, but declined to 13 per cent by 2013-14. The sharp slowdown in the sector led former Finance Minister P Chidambaram to describe manufacturing as the "Achilles' Heel of the Indian economy".
Clearly, the new FM Arun Jaitley must focus on reviving the manufacturing sector if he has to fulfill the Modi government's electoral promise of reviving jobs growth in the country.
Some economists want Mr Jaitley to announce fiscal stimulus to revive the manufacturing sector. However, Rajeev Malik, senior economist at CLSA told NDTV that such measures may not work. (Watch interview)
"Manufacturing in India suffers from two very important setbacks... One, it is much more highly taxed and two, the physical infrastructure support is just not as good as it should be," he said.
Mr Malik believes that Mr Jaitley will take some steps that can address these structural issues to revive the much-needed manufacturing growth.
Next week's budget is likely to contain elaborate measures to revive infrastructure projects, which have been held up for a long time because of slow decision-making and factors such as delay in land and environment clearances.
Projects worth Rs 6.2 lakh crore were shelved last year due to bureaucratic gridlock, according to CMIE, an economic think tank, the highest in the past 18 years.
Mr Modi's reputation, assiduously built while running the western state of Gujarat, of speeding up implementation of infrastructure projects and promoting manufacturing has raised hopes of a similar push at the national level.
However, Mr Malik said the new government should not embark on a path of expansionary fiscal policy to kick start growth. The government must stick to a narrow range of fiscal deficit target announced in the interim budget, he said.
Mr Jaitely is widely expected to revise upwards the 4.1 per cent target set by Mr Chidambaram in the interim budget. However, Mr Malik believes that the government should raise resources by aggressively disinvesting state-run firms to meet the deficit target.
"The government is very likely to increase the divestment quite significantly. So presenting a fiscal budget which is wider despite higher divestment, I think will raise some questions," he said.
(With inputs from Reuters)