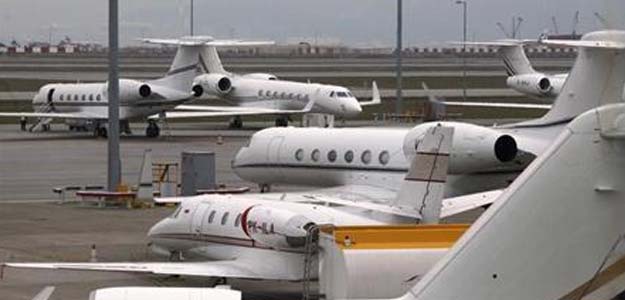 Highlights
Dollar-denominated jets seen as hedge against volatile financial markets
Yuan has depreciated since July
Its stock markets have also been volatile
Some of China's wealthier investors are buying private jets to secure a mobile, dollar-denominated hedge against volatile financial markets and a declining yuan currency, an industry analyst said, although the overall aircraft market is struggling.
China's benchmark Shanghai stock index surged 150 per cent in the 12 months to June before crashing, while the yuan, or renminbi (RMB), has depreciated since July, leading to a flight of capital from the country.
The state of financial markets has seen investors "cashing out, monetising that stock increase if you will and pouring it into an aircraft purchase", Asian Sky Group managing director Jeff Lowe said on the sidelines of China's premier business jet show.
"It allowed them the opportunity likewise to get out of RMB and get into US dollars. It's a moveable asset," he said.
China's slowing economy and corruption crackdown have clipped the wings of its once-soaring market for business jets, as yet another sector feels the pain of weaker growth in the Asian giant.
The number of business jets in mainland China grew just 3.8 percent to 300 planes in 2015, far weaker than the 16 per cent annual growth in 2014, according to Asian Sky, an aviation services provider which releases an annual fleet report.
It estimates that Chinese operators took delivery of 17 new business jets and 13 pre-owned ones last year, but at the same time 19 planes left the country - implying a net gain of 11.
"It's not shrinking, but it's growing at a pace which is less fast than before," Chadi Saade, vice president commercial for Airbus Corporate Jets, said at the show.
China's economy - the world's second largest - expanded 6.9 per cent last year, the weakest in a quarter of a century.
Since President Xi Jinping took the helm three years ago, the government has doggedly pursued a campaign against graft and enforced an austerity programme, which has hurt the overall climate for business jets.
"China is still under the scenario that we know of, the austerity measures," said Fernando Grau, director of marketing and product strategy for executive jets of Embraer China.
But there are other longstanding issues holding up development of the Chinese market, including lack of infrastructure and strict controls on air space, much of which is under the authority of the military.
"There is no extensive general aviation network in China," he said. "That's the reason holding off the deployment of more business jets in China, the lack of take-off and parking slots."
Despite the slowdown, manufacturers said they are still seeing activity and hope for a pick-up in the years to come.
"The Chinese market though it is somewhat quiet, many aircraft have left the country and few aircraft entered... we are still optimistic," said Jean-Michel Jacob, president of Dassault Aviation Falcon in Asia-Pacific.
(This story has not been edited by NDTV staff and is auto-generated from a syndicated feed.)