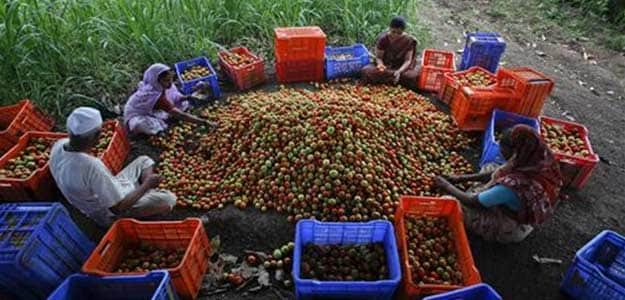 Finance Minister Arun Jaitley on Tuesday said state governments would be advised to delist fruits and vegetables from the Agricultural Produce Market Committee (APMC) Act to check rising food prices. Mr Jaitley's announcement was part of a series of steps the government has taken to rein in food inflation, which climbed to 9.50 per cent in May, from 8.64 percent in April.
(Read: Jaitley's Five Steps to Check Rising Food Prices)
Agricultural markets in most parts of the country are regulated under the state APMC Acts. The state is divided into different market areas, which are managed by the committees constituted by the state governments. Once a particular area is declared a market area and falls under the jurisdiction of a market committee, no person or agency is allowed freely to carry on wholesale marketing activities.
Though the purpose of APMC Act is to protect farmers from exploitation of intermediaries and traders, analysts say the licensing of traders leads to monopoly and provides little help to farmers in direct and free marketing.
By delisting fruits and vegetables, which are perishable in nature, a new line of supply chain can be created which will ensure quicker supply of these products to consumers, says Sajjid Chinoy, India Economist at JP Morgan.
"The idea is to liberalise trade at the farm gate...Rather than selling their produce to a government mandated agency, farmers can sell their produce somewhere else," he added.
Currently, exporters, food processing units and retail chain operators cannot get desired quality and quantity of produce for their business due to restrictions on direct marketing.
So a food processor cannot buy the produce at the processing plant or at the warehouse. This increases the cost of commodities purchased by the food processor while the farmer ends up getting a low price for his produce.
However, implementation of the measure is a prerogative of individual state governments. Mr Chinoy, however, said that more and more state governments may accept this suggestion "under sustained government pressure".