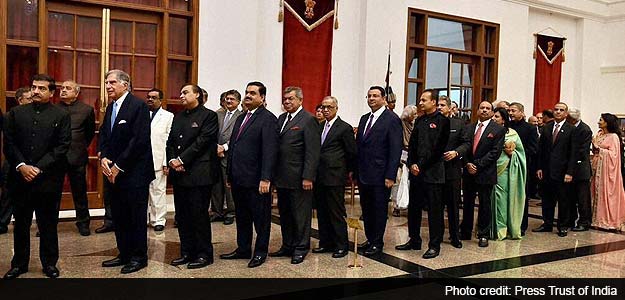 In one long shot, the camera captured a queue with a net worth upwards of $70 billion. There they waited patiently, the who's who of India Inc to meet US President Barack Obama, described as the most powerful man in the world.

The size of the economy he controls qualifies him for that epithet. And business was high on the agenda of POTUS. Bilateral trade with the US currently stands at just $100 billion, but President Obama has pitched India-US trade at $500 billion over the next decade.

The 15-odd businessmen, and women, in that frame run companies that together have a market capitalisation of over $300 billion, which is roughly one-sixth of the Indian economy.


Impressive from an India point of view, but some numbers put in perspective why India's rich and powerful stood so patiently to meet the US President. America's economy is nearly 10 times that of India's, with a GDP of $17 trillion. And America's richest man - Microsoft founder Bill Gates - has a net worth of $81 billion - more than all of the 15 Indian business leaders in the photograph.
There is Reliance Industries Chairman Mukesh Ambani, who is also India's richest man. His company has three joint ventures with Chevron, Pioneer Natural Resources and Carrizo Oil and Gas with aggregate investments worth $7.7 billion, according to Ficci.
The Tata Group, which has a market cap of around $130 billion, is represented in the queue by its former and current chairpersons - Ratan Tata and Cyrus Mistry. TCS, India's biggest outsourcer, gets a majority of its revenues from the US.
The software industry is represented also by Infosys founder Narayana Murthy and Anand Mahindra, whose M&M Group includes IT major Tech Mahindra.
Essar Group Chairman Shashi Ruia is there, Reliance Group Chairman Anil Ambani some people after his older brother, Mukesh. Bharti Airtel chairman Sunil Mittal waited too in the queue.
Adani Enterprises Chairman Gautam Adani is also in the frame as is Biocon's billionaire chairman Kiran Mazumdar-Shaw, an outspoken industry leader.
ICICI Bank's CEO Chanda Kocchar is the other key woman business leader in the "waiting to meet Obama" picture.