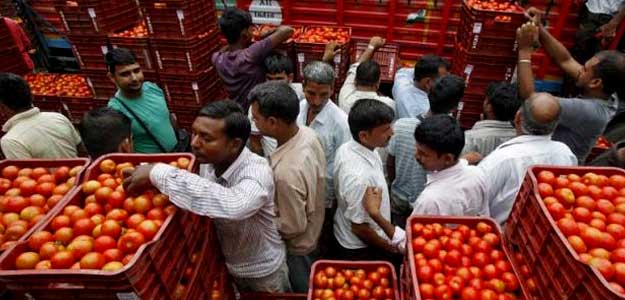 Highlights
Wholesale price inflation inched up to hit the highest since October 2014
Food prices jumped, led by double-digit increase in vegetable prices
With inflation above RBI's target, a rate cut looks a distant probability
A string of weak data points has moderated the euphoric sentiments around the Indian economy after the announcement of better-than-expected fourth quarter GDP data last month.
On Tuesday, wholesale price inflation inched up for the second straight month to hit the highest since October 2014. Wholesale price inflation in May rose on account of food prices, particularly vegetable prices, which registered double-digit growth last month.
"Pulses, vegetables, meat, egg and fish alone contributed 63.4 per cent of the food inflation in May 2016. Clearly the food items that are driving food inflation are not monsoon dependent except pulses," said Sunil Kumar Sinha, principal economist with India Ratings & Research.
The uptick in wholesale price inflation comes a day after
retail inflation inched up to a 21-month high
of 5.78 per cent in May. The Reserve Bank, which tracks the retail inflation to set interest rates, had earlier this month retained its January 2017 inflation target at 5 per cent.
But with inflation trending above RBI's target, a rate cut looks a distant probability, analysts said. (
Read more
)
The uptick in inflation trajectory is expected to be a major challenge for the Modi government, which had the benefit of low inflation over the last two years, largely because of a crash in global commodity prices and subdued rural demand.
Now, analysts fear that things may change for the worse, with petrol and diesel prices rising by more than 5 per cent since May 1, and food prices also surging last month.
Tuesday's data comes on the heels of a
0.8 per cent contraction in industrial production
in April. The contraction in factory output dampened the hopes of green shoots in the economy, analysts said.
For now, the government seems to be banking on normal monsoon rainfall between June and September, to come to its rescue. After two years of drought, meteorologists have predicted normal monsoon rains this year, which is expected to boost growth and tame prices of food items. (
Read
:
Southwest monsoon making slow progress, says IMD
)
The monsoon, which delivers 70 per cent of annual rainfall, is critical for India's 26 crore farmers and crops such as rice, cane, corn and cotton because nearly half of farmland lacks irrigation.
(With inputs from agencies)