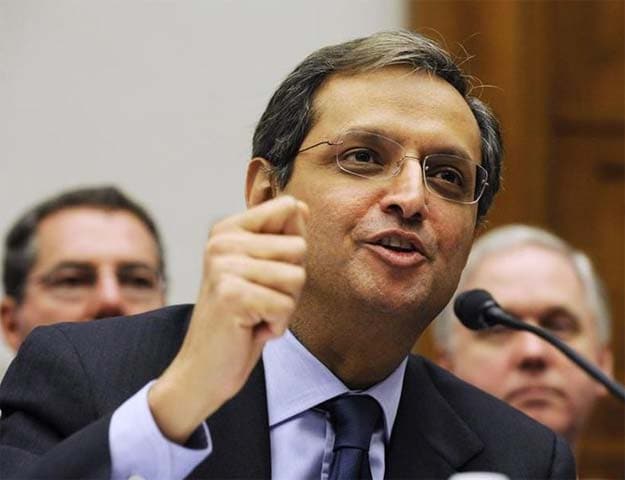 Former Citigroup Chief Executive Vikram Pandit is buying a stake in financial services company JM Financial Ltd. Mr Pandit, who resigned from Citi last October, will also become non-executive chairman of JM Financial's banking arm if it succeeds in getting a banking license, the company said.

Mr Pandit said he had known JM Financial for more than two decades. "Given the opportunity, JM Financial can provide the banking and financial services that the country needs," he said in JM Financial's statement.

Mr Pandit and his business partner, Hari Aiyer, will buy a 3 per cent equity stake in the financial services company through an issue of warrants, the Indian company said. JM Financial has a market capitalisation of $279 million.


Mr Pandit abruptly stepped down as CEO of Citigroup in October 2012, surprising Wall Street, after steering the bank through the 2008 financial crisis and the choppy years that followed. Mr Pandit also relinquished his seat on Citi's board of directors. The news shocked Wall Street and it came a day after the bank reported strong third-quarter earnings.
Mr Pandit is credited with slimming the bank by selling businesses, removing it from government ownership after a bailout in 2008 and righting its balance sheet after billions in losses on bad mortgage investments made before he took the helm.
By October 2012, Citi had become U.S.' third-largest bank, with $1.9 trillion in assets, trailing only JPMorgan Chase, with $2.3 trillion, and Bank of America, with $2.1 trillion.
Mr Pandit's massive pay packages had raised the ire of investors and fifty-five percent of the shareholders had objected to deals including the $15 million that Pandit received in 2011, in addition to $10 million in retention pay. He had accepted a token $1 in compensation in 2010.
Mr Pandit joined Citigroup in 2007 when the hedge fund he founded was acquired by the bank. He quickly rose to CEO in December 2007. Earlier, he had ascended to head of investment banking at Morgan Stanley before leaving in 2005 to form the hedge fund. A naturalized citizen, Pandit lives in New York with his wife and two children.
A native of India, Mr Pandit attended Columbia University at 16 and completed a bachelor's degree in three years. He earned a doctorate in finance in 1986.
He faced harsh criticism after Citigroup took $45 billion in government bailout money in the 2008 credit crisis. In December 2011 Pandit announced the company would eliminate 4,500 jobs to cut costs. The cuts represented about 1.5 percent of its global workforce of 267,000. When he was first hired in 2007, the company had 375,000 employees.
Mr Pandit was replaced by Michael Corbat, the CEO of Citigroup's Europe, Middle East and Africa division.
(With inputs from AP and Reuters)