Highlights
Bitcoin (BTC) prices hit a high of $16,666 on BitStamp on Friday
Bitcoin futures trading will begin on Sunday at CBOE in Chicago, US
Bitcoin prices fell nearly 20% after hitting its peak on Friday
Ahead of the rollout of bitcoin's (BTC) futures trading on Sunday at Chicago Board Options Exchange (CBOE), the price of world's most popular cryptocurrency has consistently been on a record-breaking spree. Though the bitcoin prices fell noticeably by 20% on the Luxembourg-based exchange BitStamp on Friday after hitting a record high of $16,666, however, the sentiment has largely been euphoric, and no less.
The prices have so far zoomed nearly 1,600% in 2017, which is unthinkable for any asset or currency across the globe. The experts, both proponents and critics, have been jubilant and perplexed in the equal measure. Some have been scouting to make hay while the sun shines. And as they say that 'a rising tide lifts all boats', many potential investors simply aspire to sneak into any such metaphorical boat so as to take part in the 'bitcoin rally', a term that grossly falls short of capturing the true sense of a 'rally' when spoken in the context of Bitcoin. Because it's not just a rally, it's a rally beyond any sane proportions. It's a major departure from a rational rise in an asset's value.
Such phenomenon in any asset class is intriguingly rare and practically unprecedented in one's lifespan so much so that the bitcoin rally is now being compared to the tulip mania, a price surge (eventually cut short after a bust) that happened no less than four centuries ago.
In India, you can buy bitcoins at any of the several portals that include Zebpay, Unocoin, Coinsecure, Coinmania and Localbitcoins among others.
Here are the steps to follow to buy bitcoins in India.
1. Download the app (say webpay) on android or iOS.
2. Verify your mobile number on the app. Open the verification page for getting your account verified before you procceed to buy the bitcoins.
3. For verification, the app will ask you to upload PAN card, bank account details (pass book/cancelled cheque/statement) and both the sides of aadhaar (UID) card. After you have done this, your account will be put in the 'pending' category. After three working days, the status will change to 'approved' once all the details are verified, as claims the webpay website.
4. Add money to the bitcoin wallet in Indian currency (INR) and in two hours, the account is credited. The bitcoin wallet works on the same concept as other cash wallets such as paytm and mobikwik, among others. Like in paytm, you put money from your bank account to the wallet, which is used for making the purchases. However, in the case of bitcoin wallet, the purchases that you make are 'bitcoins' only.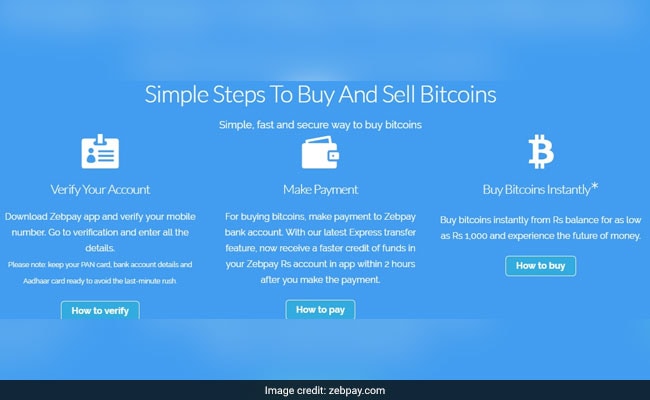 5. The zebpay account is now credited with the Indian currency, which can be used for buying the bitcoins (in full or parts). You must remember that you can buy a small division of bitcoin. You can buy bitcoins for as low as Rs 1,000. The lowest unit that you can buy is satoshi, which is a one hundred millionth of a single bitcoin (0.00000001 BTC).
Follow NDTV for latest election news and live coverage of assembly elections 2019 in Maharashtra and Haryana.
Subscribe to our YouTube channel, like us on Facebook or follow us on Twitter and Instagram for latest news and live news updates.