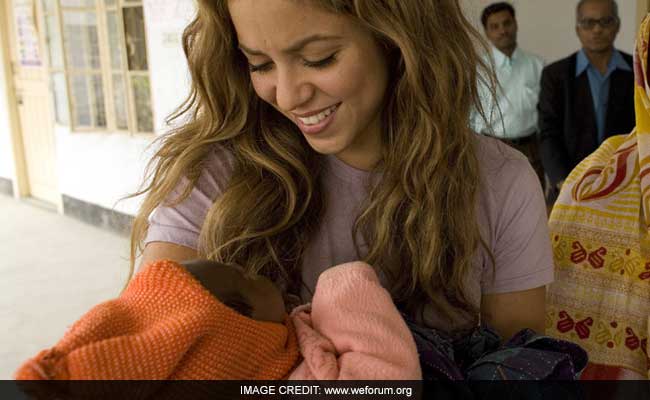 Davos:
Celeb singer Shakira came here to talk about the good work she is doing to promote education and early child development and made an impassioned appeal to business leaders from the WEF platform, but she was also made to do what she is best at -- dishing out two lines of a Latin ditty!
"Today's babies will drive tomorrow's business. Their capacity to contribute will shape tomorrow's societies, will solve tomorrow's problems," said the Colombian star, who is also a goodwill ambassador for UNICEF and was also awarded here for her humanitarian work.
Later, at an interaction with journalists on 'global goals' -- 16 sustainable development goals of UN -- she further called upon the business leaders and other influential voices, including journalists, to work for the cause of early child development and even talked about her two kids and her own motherhood.
After the interaction was called to be over, a Russian female journalist gifted Shakira some woolen (rpt) woolen cloth, including two pairs of socks for her kids, and enquired about how she takes care of her children.
Stating that she was shooting for a morning programme, the journalist further asked Shakira whether she sings in the morning and went on to request her to sing a few lines.
The celebrity singer obliged her with two lines of a Mexican song to a huge applause and even wished 'good morning' in Russian for the viewers of the journalist's programme.
(This story has not been edited by NDTV staff and is auto-generated from a syndicated feed.)