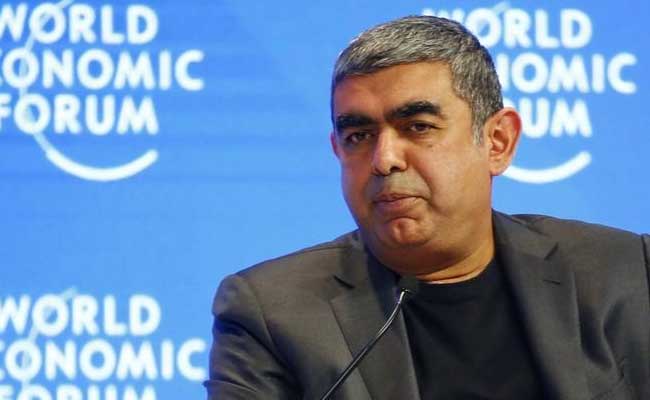 Dr Vishal Sikka, the now former chief and the current executive vice-chairman of IT bellwether Infosys shocked the industry when he announced on Friday that he has quit as CEO and MD of the company, which he has been heading since the last three years. "The distractions that we have seen, the constant drumbeat of the same issues over and over again, while ignoring and undermining the good work that has been done, take the excitement and passion out of this amazing journey," Dr Sikka said in his resignation letter.
The disclosure was nothing short of a stunner and almost jolted the IT industry and the stock markets. UB Pravin Rao has now been appointed as interim CEO and MD of Infosys. Dr Sikka and Infosys chairman R Seshasayee from California joined Mr Rao and co-chairman Ravi Venkatesan here in Bengaluru for the press conference.
Here are the top five things that the management said:
1. The former Infosys CEO has nothing against the management: "I don't agree to the idea that the Infosys board has let me down, they have done a phenomenal job," said Dr Sikka.
2. Dr Sikka is proud of his achievements at Infosys: "I started this journey more than three years ago. I am really proud of the results that we have achieved. On revenue per employee, we have improved six quarters in a row," he said.
3. The management was all praise for him: "There's no question that Vishal Sikka is a phenomenal technical guy. I don't have to say it, I think the world understands that. What is evident is that he has also blossomed into a high-performing CEO," said Mr Venkatesan.
4.New CEO to move in the direction that Infosys has already chosen: "As the board, we are fully committed to ensure that not only is the transition smooth but we will do all that it takes to get the right kind of leadership on a durable basis and to also create an environment which is stable. We will provide the right kind of atmosphere for the new leadership to move forward in the direction that the company has already chosen," said Mr Seshasayee.
5. NR Narayana Murthy continues to be miffed: "I will reply to the allegations in the right manner, at the right forum and at an appropriate time. I am anguished by the allegations, tone and tenor of statements made by the Infosys board. It is below my dignity to respond to the baseless insinuations," he said.
Meanwhile, Infosys shares touched their 52-week low at Rs 884.40 before closing 0.85 per cent lower at Rs 923.10. The company's market valuation slumped Rs 22,518.98 crore to Rs 2,12,033.02 crore. IT stocks bled with a loss of 3.53 per cent, thus ending as the biggest loser in the sectoral landscape.
(With PTI Inputs)