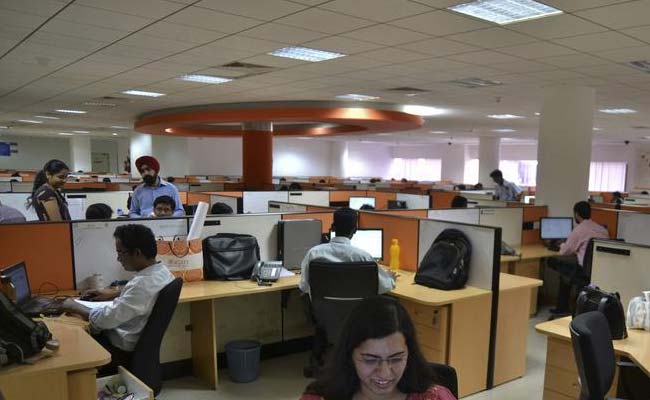 Highlights
Analysts see the new visa regime coming into force from next year
Hiring more local talent and subcontractors will put pressure on margins
Visa renewals are likely to be impacted
Acting on his election promise to reform the H-1B visa system, US President Donald Trump on Tuesday signed an executive order for tightening the programme. "Right now, H-1B visas are awarded in a totally random lottery, and that's wrong. Instead, they should be given to the most skilled and highest-paid applicants, and they should never, ever be used to replace Americans," the US President asserted. Such a change could significantly impact large Indian IT companies which bring thousands of engineers and programmers on H-1B visas to work on US projects, says IT analyst Girish Pai.

Here are 10 things to know:

1) After Trump's "Buy American, Hire American" order, "there could be an issue even getting fresh H-1B visas. It proposes a shift away from existing lottery system to a system where visas are given out based on salaries or skill levels," says Mr Pai , who is head of research for institutional equities at domestic brokerage Nirmal Bang Institutional Equities.


2) But analysts are not sure whether the Trump's new executive order will be applicable for the financial year starting October 2017, for United States Citizenship and Immigration Services or USCIS
has already processed H-1B visa applications
. Mr Pai sees Trump's executive order coming into force from next year.
3) Indian IT companies are likely to employ more subcontractors to work on US projects. "They have to hire far more subcontractors than they have done so far. Subcontracting costs have come off over the last few quarters. But they are likely to head higher from FY18," he added.
4) Utilisation of onsite employees: "An H-1B is a far more mobile worker. He/she can work for 3-4 months in New York and then shift to California, for example. An US employee may not want to shift from one location to another at such a short intervals. This problem was highlighted by Infosys at one of the analyst calls," Mr Pai said.
5) The latest order on H-1B visas - popular among Indian IT professionals - by the Trump administration in the United States is also likely to hit
visa renewals
.
6) The H-1B visa issue has been an overhang on Indian IT companies ever since Donald Trump was elected to office. Over half-a-dozen pieces of legislation have been introduced (and reintroduced) since January 2017 to curb alleged misuse of the H-1B visa regime from both Democrats and Republicans, including one that has called for higher minimum wage of $1,30,000, nearly double from the current levels.
7) If the minimum wage is increased to $1,00,000-$1,30,000, the hit for Indian IT companies' margins could be "substantial", says Mr Pai.
8) According to Nirmal Bang's estimates, most Indian companies currently pay their H1-B employees in the range of $65,000-$75,000, depending on skill sets and location.
9)
Indian IT companies have already been boosting local hiring
in anticipation of tighter visa regime. But margins are likely to be hit.
10)
Infosys last week cut its EBIT margin
guidance for the current financial year to 23-25 per cent from 24-26 per cent earlier.