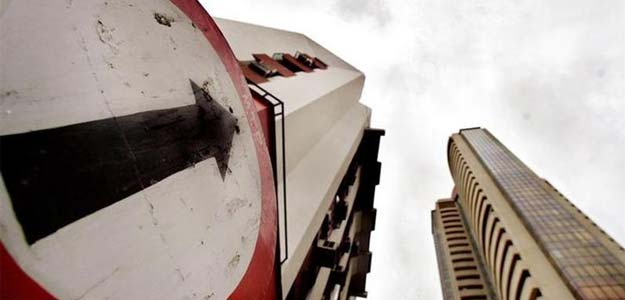 Indian stock markets rallied to record highs for a second consecutive session on Monday, with the BSE Sensex topping 23,500 and the broader Nifty hitting a record high of 7,014. The BSE Sensex has now gained over 1,200, while the Nifty has accumulated over 350 points or around 5 per cent in just two sessions. (Track markets)
The sharp rally in stocks has come even as polling in on for the last phase of the five-week-long elections. It seems that investors are betting that the BJP-led NDA will emerge victorious on May 16, when results are announced, analysts say.
"There is a lot of political hope that has got baked in valuations. Markets are factoring numbers close to 230-240 seats for the BJP alone, and if that is the case, the NDA will get a majority on its own. That will lead to pro-growth, right of central, stable formation, which is enthusing for the investors," said Manishi Raychaudhri, strategist and head of research at BNP Paribas Securities.
Polls have consistently shown the BJP and its prime ministerial candidate Narendra Modi ahead, raising expectations that the opposition party, which is seen by markets as being more investor- and business-friendly, will either win or come close to an outright majority. The surprising part, however, is markets seem to be factoring in the best possible scenario (stable government led by Mr Modi) even before exit poll results, due later in the day.
One possibility why markets have not waited for exit poll results might have to do with speculation that big investors have already got a whiff of what results would be. In fact, overseas investors bought shares worth Rs 1,268.78 crore in the cash market on Friday, their biggest purchase since March 28. Friday's gains came at a time when markets had shed 2 per cent after hitting a record high of April 25. Clearly, smart money had some information.
Deven Choksey, managing director of brokerage KR Choksey told NDTV that somewhere from the media, numbers suggesting that the BJP will get 260-270 seats, came out. It was in circulation on social media and markets took advantage of that, he said. (Watch Video)
"It always happens that you get information ahead of time and markets would always want to act on such information ahead of time. Markets were quite subdued on Friday.... but may be the information which came out helped fuel this particular move," Mr Choksey said.
Mr Raychaudhri says some of large investors and traders might have undertaken their own exit poll surveys.
"The numbers pegging BJP seats at 230-240 have come from interaction with domestic institutional investors. I don't think they have been published," he said.
Retail investors, however, should be cautious even though the consensus outlook on the Street seems to be bullish. That's because not only opinion polls, but exit polls, too, have got it horribly wrong in the past.
(Also read: What If Modi Falls Short? Some Market Players Brace For Shocker)
On May 17, 2004, soon after the announcement of the election results, Indian markets witnessed a bloodbath as the NDA government was voted out of power. Trading was suspended twice that day as the Sensex and Nifty hit their lower limits twice in a session.
Any results that show BJP falling short of a majority could cause shares to plunge 8 to 10 per cent in one day, and up to 20 per cent in the aftermath, analysts say.
Mr Choksey cautioned the Nifty can slip to 6,600 if results are not up to expectations.
(With inputs from Reuters)