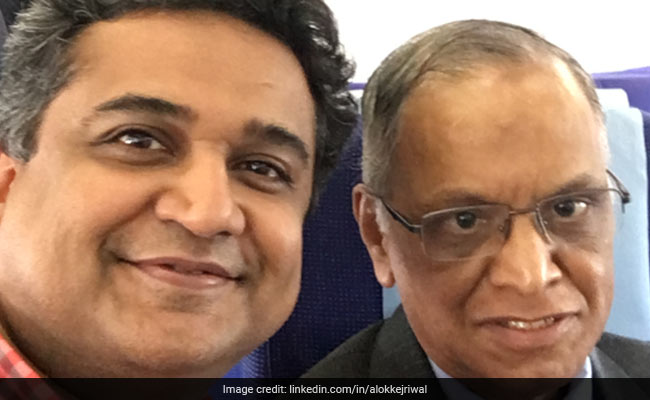 It is not every day that one learns important lessons from the founder of Infosys, Narayana Murthy. Alok Kejriwal, CEO & Co-founder of Games2win tweeted about an unexpected run-in with Mr Murthy which happened a year ago and had a deep impact on him. The meeting which lasted only four minutes helped Mr Kejriwal "unlearn" some important lessons.
Describing the chance meeting, Mr Kejriwal said that he and his wife saw Mr Murthy walk into a flight travelling from Mumbai to Bangalore. Mr Kejriwal whispered to his wife, "Isn't that Narayan Murthy?" Before she could answer, the Infosys-founder looked at him and said, "Yes".
It's been a year since I had a 4 minute chance meeting with Narayan Murthy in an airplane and 'unlearnt' lessons about being special, authoritative, famous and silent. Check:https://t.co/H3krgPFcEq

— Alok Kejriwal (@rodinhood) December 6, 2017
Being an admirer, Mr Kejriwal walked up to him and offered his seat. To which Mr Murthy smiled and said, "No thanks. I am very happy. Thank you."
While Mr Kejriwal was star-struck, his wife casually told him that she had in fact spotted Mr Murthy a while back on the bus to the plane but did not mention it to him as Mr Murthy was sleeping at that time.
The incident made a deep impact on Mr Kejriwal and these are the 4 things he "unlearnt":
Being Special
Why was Mr Murthy not flying his own plane? Why was he in IndiGo? Why wasn't there a posse of airline people following him? If I was him, Boy! I would have my own Jet and crew and all that jazz, Mr Kejriwal thought, and realized that "being special is not what (some) great men enjoy."
Being Authoritative
Sometimes 'special VIPs' need to be accommodated and insist upon sitting in the first row or business class. Mr Murthy was just being a normal guy, Mr Kejriwal said. No fuss, no special favors asked.
Lesson unlearnt? Being accommodative is a blessing. Being authoritative is a curse.
Being Famous
Mr Murthy did not act famous or expected others to notice him. Nor did he demand a special treatment from the flight crew. Lesson unlearnt? Being famous comes from being exceptional. Not by expectations, said Mr Kejriwal.
Being silent
When Mr Kejriwal asked his wife why she did not tell him when she saw Mr Murthy earlier, she said that the Infosys founder was sleeping and she did not want to disturb him. Lesson unlearnt? Being silent is the dividend you earn when you are centered. "Both Narayana Murthy and Chhavi (Mr Kejriwal's wife) were silent then. Why was I making such a noise?" Mr Kejriwal realized.