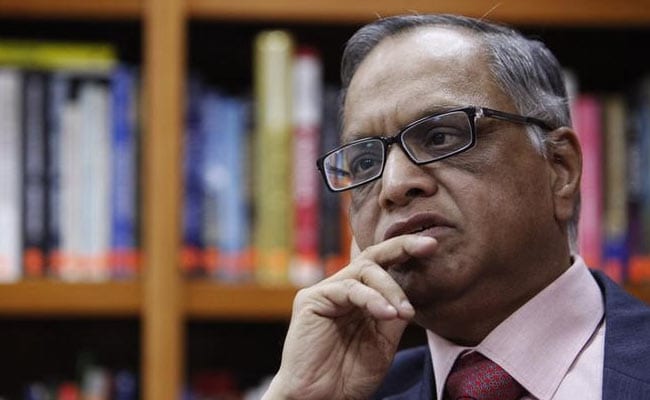 Highlights
CEA has taken an 'essential first step to address the issue'
Murthy not bothered about firms which negate job losses
Subramanian is a highly qualified person, says Murthy
Bengaluru
: Infosys Co-Founder Narayana Murthy on Thursday endorsed Chief Economic Advisor Arvind Subramanian's concern over lack of reliable jobs data which has thrown up big challenges before the central government to solve unemployment problem.
"I entirely agree with the Chief Economic Advisor, Mr Arvind Subramanian. He has already recognised the problem that data on jobs is not accurate. This is an important and an essential first step to address the issue," he told reporters on the sidelines of inauguration of Synergetic Security operation Centre of SISA, a payment security specialist, here.
"I believe once somebody in a position has recognised the problem - the problem of lack of reliable jobs data - I am sure the government will be in a position to solve unemployment," he added.
According to media reports, the government has kicked off a new employment survey to create closer-to-real-time credible information, the first tranche of which is expected to be revealed in December next year.
"The data thus collected will help government and companies make analysis as to what are the areas where we have higher unemployment - in which all states it is high, and which all states it is low, and automatically, we will find out what kind of encouragement we need to give to entreprenuers to create jobs, in certain parts of the country and sectors of the economy," Murthy said.
Murthy also said he listens to Subramanian with tremendous attention and care, because he is a learned and a highly qualified person.
Asked if such genuine data would become a cause of embarrassment for companies which were negating a huge number of job losses, Murthy said, "We should not worry about who gets embarrassed, who doesn't. That is not the important thing. I wouldn't worry."
Responding to a query, Murthy said the day a company loses transparency, the business would begin to climb down. "Business may go up and down but what is important is the values cannot go up and down. Transparency, fairness and accountability are the most important attributes of any corporation. The day you lose transparency, then, I believe, that's the day your business starts going down," Murthy said.