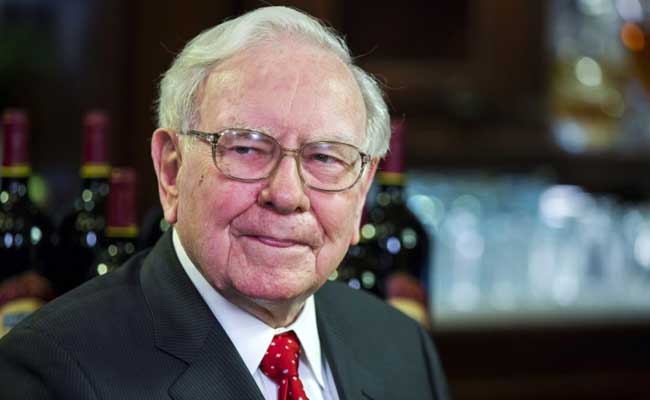 The Oracle of Omaha and CEO of Berkshire Hathaway Warren Buffett joined the league of experts who have slammed the euphoria around the rise of bitcoin prices in recent past. He was short of calling bitcoins illegitimate or illegal. Some experts such as Joseph Stiglitz have unequivocally called for making bitcoins illegal. On Wednesday, Buffett said that he will never invest in cryptocurrencies such as bitcoin, ethereum, litecoin, TRON and ripple among others. Taking a sharp stand against bitcoins, Buffett said, "I can say almost with certainty that cryptocurrencies will come to a bad end."

Ten Things To Know About Experts' Takes On Bitcoins
1. Warren Buffett's comments come a day after JPMorgan & Chase chief executive Jamie Dimon said that he regrets calling bitcoin a fraud, referring to comments he made at a banking conference in September.
2. Buffett's comments were backed by Charlie Munger, his longtime partner at Berkshire Hathaway, who described the soaring values of Bitcoin and the other cryptocurrencies as bubbles
3. It is worth mentioning that just as JPMorgan's chief executive, Goldman Sachs also changed its tack to lean on the side of pro-bitcoin lobby when in a nine-page report, Goldman Sachs said that bitcoin is money unlike its strong stance against the digital currency throughout 2017
4. Bitcoin has taken the investing world by storm, surging to a high of more than $19,000 on December 17 and created a divide on Wall Street about whether it is a legitimate financial instrument.
5. Park Sang-ki, South Korea's justice minister said this week that the country is preparing to ban all cryptocurrency trading in the country.
6. Yale University's Jackson Institute for Global Affairs' senior fellow Stephen S. Roach called bitcoin a "dangerous speculative bubble by any shadow or stretch of the imagination" and a "toxic concept for investors."
7. Nobel-Prize winning economist Robert J Shiller called bitcoin "the best example" of a speculative bubble. He said this early this year when the bitcoin price was around $5,000. Shiller also remarked, "The Bitcoin price is like a thermometer measuring the intensity of the epidemic."
8. Nobel laureate and famous economist Joseph Stiglitz said that 'bitcoin is successful only because of its potential for circumvention, lack of oversight. So, it seems to me it ought to be outlawed'
9. Governor of the Bank of Japan Haruhiko Kuroda said, the price increase in bitcoin was "abnormal" and bitcoin is "being traded for investment or speculative purposes".
10. Reserve Bank of Australia's governor Philip Lowe said the fascination with virtual currencies such as bitcoins a "speculative mania".