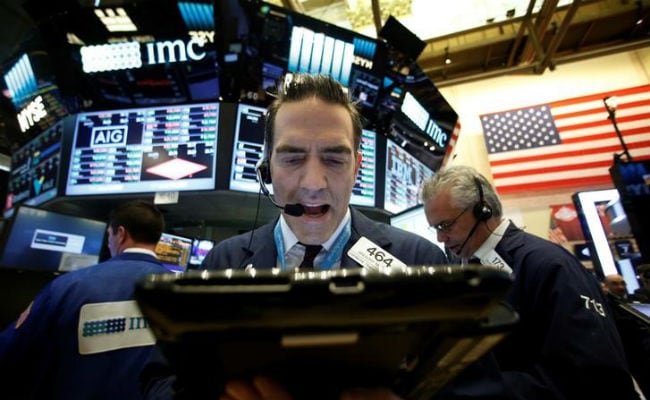 The three major U.S. indexes were trading at record levels on Monday, powered by gains in financial, technology and industrial stocks, with focus on Federal Reserve's policy meet.
Shares of the major banks, including Bank of America, Goldman Sachs and JPMorgan, rose more than 1 percent, helped by rising bond yields.
Boeing and Caterpillar rose more than 1.5 percent, providing the biggest boosts to the Dow, while Nvidia's near 5 percent increase pushed the S&P and the Nasdaq higher.
Investors returned to risk taking as tensions eased on the Korean peninsula after U.S. Secretary of State Rex Tillerson talked of "peaceful solution".
"Market continues to firm up. We could be experiencing what's known as a robust return environment," said Ronald Sanchez, chief investment officer at Fiduciary Trust Company International in New York.
Market will shift its focus to the Federal Open Market Committee's two-day meeting, which starts on Tuesday.
The meeting is unlikely to result in an interest rate increase, but investors will focus on how Fed Chair Janet Yellen views recent inflation readings for clues on the timing of further rate hikes.
Persistently weak readings of inflation that have remained below the Fed's 2 percent target rate have been a concern for policymakers.
However, a stronger-than-expected rise in consumer prices in August triggered a more than 50 percent rise in the odds of a December rate hike, according to CME Group's FedWatch tool.
"The trend in inflation has taken a downtick. I think she (Yellen) will need a little more evidence on the inflation side over the next month or two to have some conviction about moving rates in December," Sanchez said.
The central bank is also expected to announce plans to begin unwinding its $4.2 trillion portfolio of Treasuries and mortgage-backed securities, nearly a decade after the global financial crisis.
At 12:33 p.m. ET (1633 GMT), the Dow Jones Industrial Average was up 78.77 points, or 0.35 percent, at 22,347.11, the S&P 500 was up 5.67 points, or 0.22 percent, at 2,505.9 and the Nasdaq Composite was up 26.97 points, or 0.42 percent, at 6,475.44.
Seven of the 11 major S&P sectors were higher, led by a 0.95 percent gain in the financial index.
Nvidia shares rose as much as 5.5 percent to hit a life high, following bullish brokerage reports. Advanced Micro Devices rose more than 5 percent.
Shares of Orbital ATK hit a record high after Northrop Grumman said it would buy the missile and rocket maker for about $7.8 billion in cash. Northrop's shares rose 2 percent.
Advancing issues outnumbered decliners on the NYSE by 1,611 to 1,202. On the Nasdaq, 1,857 issues rose and 999 fell.
© Thomson Reuters 2017
(This story has not been edited by NDTV staff and is auto-generated from a syndicated feed.)