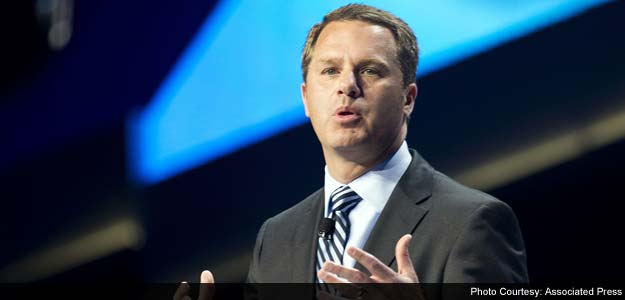 Arkansas, US
: Wal-Mart chief executive Doug McMillon has urged the company's employees to reimagine its future in a fast-shifting retail landscape.
The company is at a crossroads, as its long-held dominance in pricing and convenience has been chipped away at by Amazon and dollar stores. But it's fighting back on multiple fronts, growing more aggressive with prices and going after Amazon, both online and on the doorstep, by expanding delivery services to cater to shoppers who want to buy anywhere, anytime.
"We want to make every day easier for busy families. We're connecting all the parts of Wal-Mart into one seamless shopping experience with great stores, easy pick-up, fast delivery and apps and websites that are simple to use," Mr McMillon said at the annual shareholders' meeting on Friday.
The event was packed with 14,000 people including nearly 6,000 Wal-Mart workers as well as shareholders, analysts and several Walton family members. The legacy of the company's late founder Sam Walton still resonates, with executives paying homage to his philosophy of low prices and customer service. Part business meeting, part pep rally, the meeting was hosted by comedian James Corden and featured musicians Katy Perry, Nick Jonas, Maxwell and Andy Grammer.
Entertainment aside, Wal-Mart emphasized ways in which it's working to be more nimble.
The company is spending money on its stores and its staff. It's in the second year of a $2.7 billion investment in training and higher wages, with the goal of making Wal-Mart a place people want to be.
Changes have been painful at times. The company announced this year it would shutter 269 stores worldwide, about half of them in the US. That's a tiny fraction of its locations worldwide, but was a rare pruning for Wal-Mart, particularly on its home turf.
Yet those maneuvers to spruce up stores and increase wages appear to be paying off.
The company posted its seventh consecutive quarter of rising comparable-store sales at US Wal-Mart locations, which account for 62 percent of annual revenue. It expects sales to grow again this quarter. Traffic counts are up for the sixth straight quarter.
Amid a disastrous quarter for many retailers as a whole, Wal-Mart excelled.
But red flags have appeared have as Wal-Mart digs in to fend off Amazon.com. Overall revenue in the fiscal year ended in January declined slightly to $478.6 billion, excluding revenue from membership fees and other income. That's the first annual drop since the company went public 45 years ago.
Wal-Mart's e-commerce growth has slowed dramatically even as it escalates investment there. Global e-commerce sales growth slowed to 7 per cent during the first quarter, a notable downturn from nearly 30 per cent two years ago.
"Domestically, Wal-Mart's challenge remains unchanged as it attempts to adapt to a changing retail environment in which stores are only 'part' of the environment and not 'only' the environment," wrote Credit Suisse analyst Michael Exstein.
Still, Wall Street appears optimistic. Wal-Mart shares are up 16 per cent this year, while the Standard & Poor's index for multiline retail is up only 2.5 per cent.
Mr McMillon said afterwards that Wal-Mart has past practice on its side. "We've got the history of studying competition," he said. "We can see what's happening with customers." He also said Wal-Mart is picking up the pace of change and doing plenty of experimentation.