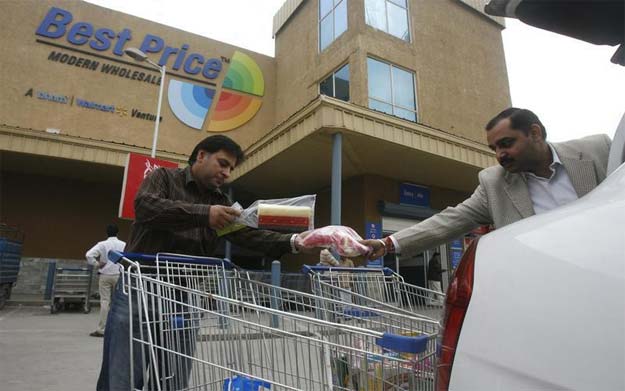 Wal-Mart Stores Inc and its Indian partner Bharti Enterprises on Wednesday said they will dissolve their joint venture and will independently own and operate separate businesses in the country.

Wal-Mart, the world's biggest retailer, will acquire Bharti's 50 per cent stake in Bharti Wal-Mart Pvt Ltd, which runs about 20 wholesale stores in India under the Best Price Modern Wholesale brand. Indian rules allow 100 per cent foreign direct investment (FDI) in cash and carry business.

Bharti will acquire compulsory convertible debentures (CCDs) held by Wal-Mart in Cedar Support Services, a company that operates easyday retail stores in the country.

Wal-Mart's growth in India has been hindered by still-evolving rules on foreign investment, an internal bribery probe, and, more recently, the faltering partnership with New Delhi-based Bharti, which Reuters reported in July.

"Given the circumstances, our decision to operate independently will be beneficial to both parties," Scott Price, president and chief executive of Walmart Asia, said in the statement.

Wal-Mart said it will work with the government to create conditions that enable foreign direct investment in India's supermarket sector.


In September 2012, the government permitted foreign retailers to own 51 per cent of their Indian operations, but ambiguity around rules governing the policy has ensured no foreign retailer has so far applied to enter the country. The biggest stumbling block for companies has been the government's requirement that 30 per cent of their products be sourced locally.
Formed in 2007, Bharti had a 50:50 joint venture with Wal-Mart for cash-and-carry or wholesale stores. The US firm had also been managing Bharti's retail chain easyday since 2008, though at the time Indian laws didn't allow foreign investment in multi-brand supermarkets. Bharti runs 212 easyday stores in the country.
Last year, Wal-Mart came under the scanner for corrupt practices in its Indian operation under the US Foreign Corrupt Practices Act (FCPA). In June 2013, its India head Raj Jain quit.
Bharti Enterprises is the holding company of Bharti Retail. Shares in its listed subsidiary
Bharti Airtel
traded 2.1 per cent lower at Rs 325 on the NSE as of 10.50 a.m. (
Track stock
)
(With inputs from Reuters)