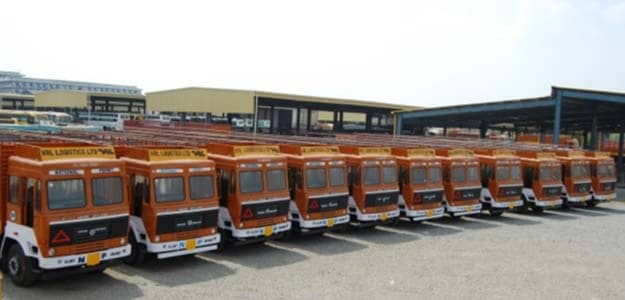 VRL Logistics will hit the capital markets on Wednesday with an estimated Rs 468-crore initial public offer (IPO). The issue opens on Wednesday and will close on April 17, 2015, making VRL Logistics the fourth company to hit the capital markets this year.
The logistics company is offering 2.28 crore shares in the price band of Rs 195 to Rs 205. The minimum bid lot is 65 shares, or in multiples of 65 shares thereafter.
The IPO constitutes of a fresh issuance of 0.58 crore shares and an offer for sale of 1.70 crore equity shares by private equity firm NSR-PE Mauritius LLC and the promoters' family.
After the IPO, the promoter holding in the company will come down to 70 per cent from 77.2 per cent now. NSR's holding in the company will fall to 5.2 per cent, from 22.5 per cent.
How It Plans to Use IPO Proceeds
The company plans to purchase goods transportation vehicles amounting to Rs 67 crore and repay some of its debts worth Rs 28 crore. The remaining amount will be used for general corporate purposes.
Business profile of VRL Logistics
VRL logistics is in the business of providing surface logistics and parcel delivery with a fleet of 3,546 owned vehicles across 28 states. It caters to industries such as FMCG, food, textiles, pharma, apparel and furniture among others. Additionally, it is also into other businesses like courier services, hotels, wind power and air chartering services.
However, goods transportation is the primary revenue source of the company, representing around 76 per cent of the overall revenue, according to the first nine months earnings in FY2014-15.
Valuation
At the higher end of the price band, VRL Logistics shares are valued at 19.6 times its estimated FY2015 annualised earnings per share, says Angel Broking in a note. In comparison, Transport Corporation of India trades at around 25 times its estimated earnings. Net sales of VLR Logistics grew at a compound annual growth rate (CAGR) of 18.9 per cent over FY2011-14 and its net profit at 15.3 per cent (CAGR) during this period.
Should You Buy?
Angel Broking recommends subscribing to the issue, citing VRL Logistics' pan-India presence and attractive valuations. "Considering the improving economic outlook, its pan-India presence and attractive valuations, we recommend a subscribe to the issue at the upper price band," the brokerage said in a note.
Angel Broking also says that VLR Logistics will also benefit from the proposed implantation of goods and services tax (GST).
Another domestic brokerage KR Choksey Securities also recommends a buy. "VRL Logistics at upper band (Rs 205) post equity dilution will trade at EV/ EBITDA 9.0 times which we think is discounted to peers. Considering cheap valuations and strong foothold in Southern India, we recommend subscribe," it said.
However, ICICI Securities has not rated the issue.
Key Risk in the Business
Competition from existing and new players, inability to pass on increase in operating expenses like fuel cost to customers, and high dependence on centralised hub at Hubballi, Karnataka, are cited as main risks for its business by the company. Also, a domestic economic slowdown may adversely affect the performance and growth of the business, said ICICI Securities in a research note.