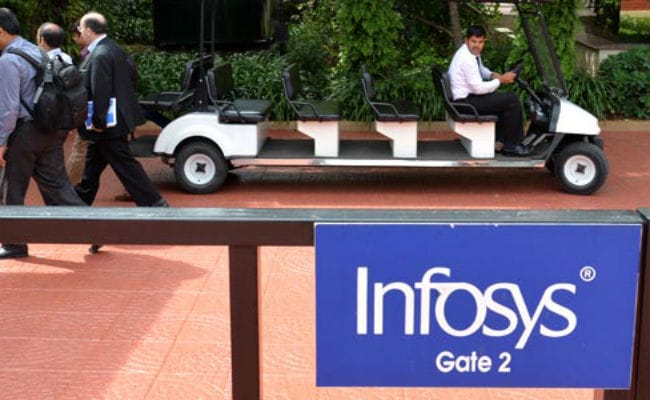 Highlights
Vishal Sikka resigned and CEO and MD of Infosys today
Mr Sikka's abrupt resignation sent Infosys shares over 13% lower
At day's low, Infosys' market value fell by Rs 31,500 crore
Vishal Sikka
's abrupt resignation sent Infosys shares tumbling over 13 per cent lower in intra-day trade on Monday, wiping out over Rs 30,000 crore from the market value of the IT major. However, the stock took a reprieve and ended 0.85 per cent lower at Rs 923.10 compared to its previous close of Rs 1,021.15. The company's market valuation thus slumped Rs 22,518.98 crore to Rs 2,12,033.02 crore.
Dr Sikka resigned as chief executive and managing director of Infosys with immediate effect and the country's no.2 IT services company named
UB Pravin Rao
as his interim replacement. Dr Sikka will now be executive vice-chairman, as Infosys looks for a new permanent CEO and managing director. The sudden move came amid growing acrimony between the company's board and its founders led by NR Narayana Murthy. The plunge in Infosys shares weighed on the overall markets and the Sensex fell nearly 400 points at day's low.
"There is some level of uncertainty as we wait till the new CEO and managing director comes in, and it does put the company in some form of uncertainty in terms of strategy," said Apurva Prasad, analyst at HDFC Securities.
Vishal Sikka blamed
"continuous stream of distractions and disruptions" for his resignation, saying that attacks had become increasingly personal and negative and that the "distractions" were preventing the management's ability to accelerate the company's transformation.
At Day's low, Infosys shares plunged over 13 per cent to 52-week low of Rs 884.40 on the BSE. Analysts say Pravin Rao faces big challenges as he steps into Vishal Sikka's shoes at a time when Indian IT is grappling with slower growth and crackdown on visas in many countries.
"This does not augur well for the future of the company, for the shareholders, big and small, and more importantly for the employees," Gaurang Shah, head investment strategist at Mumbai-based brokerage Geojit Financial Services.
Analysts said that that Dr Sikka's resignation is a setback for the IT major in the near term but they are optimistic that Infosys will overcome the setback. "While in near term it's a setback for the company, but given the strength of the board of the company, we believe that the company will be overcome the setback," Sarabjit Kour Nangra of Angel Broking said. The domestic brokerage has a "buy" rating on the stock with a target Rs 1179.
Infosys shares closed 9.60 per cent lower at Rs 923.10