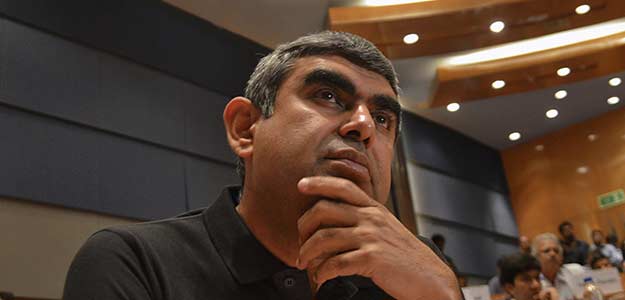 Infosys on Thursday named Vishal Sikka as the company's first non-founder CEO, ending months of speculation about who will lead India's second-biggest IT outsourcer after current chief SD Shibulal retires. Infosys shares rose more than 3.5 per cent in early trade, but the stock closed lower on a day when Indian markets ended near record highs. (Read: Who is Vishal Sikka)
The naming of Dr Sikka, a former top-notch official at German software maker SAP, removes a lot of uncertainty at Infosys around CEO succession, which was linked to many top-level exits over the last one year. However, analysts say Dr Sikka's appointment is just the beginning of a long road to recovery.
Here are the key challenges Dr Sikka faces.
1) Employee morale: A services company, Infosys employs in excess of 1.5 lakh employees, but it has been bogged down by high attrition despite two wage hikes in last one year. Attrition at Infosys rose to 18.7 per cent in the March quarter from 16.3 per cent in the December quarter. The company's attrition rate is currently higher than its biggest competitor TCS as well as third-ranked outsourcer Wipro.
"Management churn and offshoring polices (such as cap on onsite duration) may have impacted employee morale. At the senior level, Infosys has lost 11 senior management employees post Mr. Murthy's return," said Bhuvnesh Singh of Barclays.
2) Filling the leadership vaccum: Over the last 12 months, Infosys has lost several board members and some client-facing managers. The company's global sales head, head of US sales, BPO sales head, India head as well as one of the two presidents have quit Infosys over the last 12 months. "The top layer of executives are all but gone," said Ankita Somani, a research analyst at brokerage MSFL Research. Jigar Shah of Maybank says the appointment of Dr Sikka is a positive in the near term, but there are risks of further senior management exits.
3) Sluggish growth: Over the last year, Infosys margins grew by 200 basis points and the company also started winning large deals because of its renewed focus on bread and butter outsourcing deals. However, Infosys continues to lag its peers when it comes to revenue growth. For the current fiscal 2014-15, Infosys expects to grow at 9 per cent (dollar revenue) lagging industry growth estimates of 13-15 per cent.
"While deal wins improved year-on-year, the run-rate still lags that of HCL Tech, which won over $4 billion worth of large deal wins in the past four quarters versus $2.25 billion at Infosys," Barclays noted.
Besides, Infosys is over-dependent on North America for revenues. Aniruddha Bhosale, analyst with Deutsche Bank, says below-par presence and acceptance in key growth market of continental Europe will be a major challenge for Dr Sikka.
4) Infosys may take longer-than-expected to rebound: Last year, Mr Murthy had outlined his three-year strategy of turning Infosys into "the most desirable company". He had also promised that in five years the company will get back to industry-leading growth rate, which it enjoyed till 2007-08. That plan now looks in danger as Mr Murthy is relinquishing his executive role on June 14, the day when Dr Sikka joins Infosys board.
5) Dr Sikka's background may be a handicap: At SAP, Dr Sikka led all products business, but Infosys is predominantly a services company. Deutsche Bank says it is concerned about Dr Sikka's ability to run a services company. "This could also have implications on his view of costs and hence margins," the investment bank said.
However, in an investor conference on Thursday evening, Dr Sikka maintained that the distinction between products and services has become blurred. "Large machines are delivered as services nowadays... To me, the distinction between software-led services and product is not that much," he said.