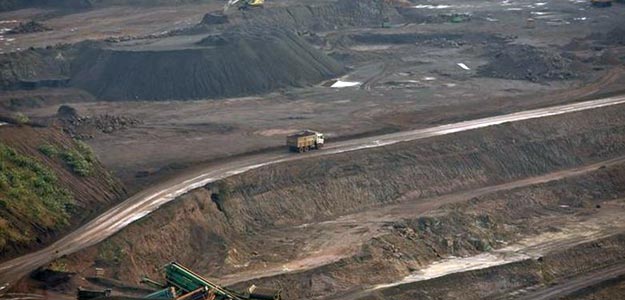 Mumbai
: Vedanta Ltd said on Wednesday it expected to restart iron ore mining by October in top exporting Goa province and that talks were continuing with regulators for merging with its cash-rich unit Cairn India.
The mining and energy group, which has been hit by a slump in crude prices and mining bans in key producing states, also posted a consolidated net profit of Rs 866 crore for its fiscal first quarter to June 30.

That compared with a profit of Rs 376 crore rupees in the same period last year, which was hurt by a one-time charge of Rs 2,128 crore. Excluding the impact of one-off charge, the company's first-quarter profit was 35.4 per cent lower than a year earlier.

Chief Executive Tom Albanese said on a conference call Vedanta was hoping to get approvals as early as next month to restart a few mines in Goa and was positioned to restart mining at a rate of 5.5 million tonnes a year.

However, he said the current low international prices coupled with royalties and export taxes were challenging and the company would look to sell as much ore as it could to domestic mills.

Albanese separately said in a statement Vedanta was focusing on improving efficiency and costs.

Consolidated net sales fell marginally to Rs 16,952 crore in the June quarter from Rs 17,056 crore a year earlier at Vedanta, which has interests in oil and gas, iron ore, zinc, copper, power and aluminium.

CAIRN DEAL
Vedanta, part of London-listed miner Vedanta Resources Plc, in June made a $2.3 billion offer to buy out minorities in its cash rich oil and gas unit, Cairn India.

Albanese has previously said Vedanta's offer was fair, dismissing reports that opposition from minority shareholders in Cairn India, including ex-parent Cairn Energy, could scupper the deal.

"We are in continuous contact with various regulators and exchanges for the merger to go through," he said on Wednesday.

Albanese said Vedanta "may have to take hard decisions" to cut costs at its aluminium business, which is under stress from low prices and a flood of imports. Another Vedanta executive told Reuters last week it had scaled down operations and might need to make "huge" job cuts.
($1 = 63.8600 rupees)
© Thomson Reuters 2015