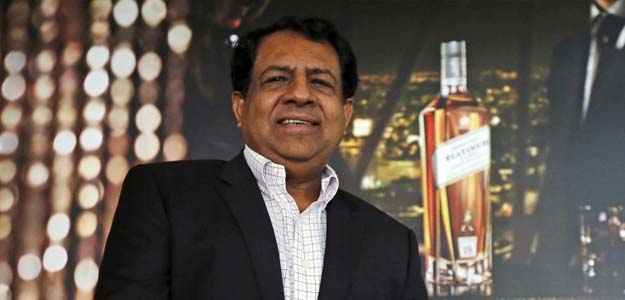 Mumbai
: United Spirits Ltd will scale back its roster of more than 150 brands and focus on the faster-growing top end, hoping to bolster its fortunes in a market dominated by cheaper, local names.
Anand Kripalu, chief executive of the unit of Britain's Diageo Plc, said the maker of Johnnie Walker whisky expects growth in top-end spirits to outpace the mass market over the next few years, as a growing class of wealthy young professionals demands better quality.
It expects to focus its main marketing and promotion efforts on around 15 top brands and will de-emphasise or consolidate others.
Whisky-swigging India is now a battleground for global drinks makers, as groups like Diageo and rival Pernod Ricard SA tap emerging markets to offset sluggish growth in the developed world.
It is now Diageo's second-largest market by sales.
"Awareness, certainly, for premium brands is going up and affordability is going up," Mr Kripalu told Reuters.
"We are focussing on select brands, which we believe are the critical ones, big drivers of growth," he said, adding that only those brands would receive strategic investment.
India's alcoholic beverages market remains small compared with other large economies such as China and the United States. But drinks makers are betting on rapid urbanisation, a young population and a fast-growing middle class.
Premium brands
The spirits market in India, Asia's third-largest economy, was worth about $17 billion in 2014, and per capita consumption is expected to grow to 1.8 litres in 2019 from 1.4 litres in 2010, according to research firm Euromonitor.
That jump, Mr Kripalu said, will be fuelled by premium brands. In the next five years, the share of higher-end spirits in total volume will go up to 60 per cent from 40 per cent, while the rest would be accounted for by brands that cost less than Rs 400 ($6.15) a bottle, he said.
Diageo's premium portfolio in India also includes Ciroc vodka, while United Spirits owns more popular whisky brands including McDowell's No. 1 and Bagpiper.
United Spirits hopes focusing on the higher-band will arrest a decline in its slice of the market, which dropped to 39 percent in 2014, when it was fully integrated with Diageo, from 42.7 per cent in 2010, data from Euromonitor showed.
As India grows, Mr Kripalu, a consumer goods industry veteran who joined the company two years ago, expects his company's contribution to Diageo's revenue going up in the coming years from about 9 per cent now, but did not give a target.
"Our aim is certainly to grow faster than Diageo is growing globally, therefore our contribution will keep going up," he said. "I do see us becoming a significant growth driver to Diageo globally."
($1 = Rs 65.0144)
© Thomson Reuters 2015