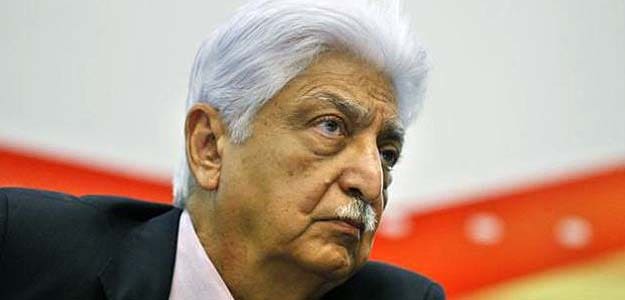 Bengaluru
: Wipro chief Azim Premji on Monday said the US market has been sluggish in the first half of 2016 after posting a growth of 2.4 per cent in the previous year but the growth is expected to pick up in the remaining six months.
The IT czar stated this in his speech at Wipro's annual general meeting here while giving a short overview on the overall environment.
"Even though the US has been sluggish in the first half of calendar year 2016 after posting growth of 2.4 per cent in 2015, the growth is expected to pick up in the second half," Mr Premji said.
"The unemployment data has been largely positive and there appears to be confidence that we will see one hike in CY16," he added. The US is by far the largest market for IT firms like Wipro accounting for around 60 per cent of overall revenues.
The run up to Brexit had created a significant overhang on the global economy. "As of the now, we do not see a contagion effect and appears to be a regional problem in the UK. Eurozone continues to grapple with challenges around growth and low inflation coupled with geopolitical concerns," he said.
From an IT perspective, Mr Premji said, Europe continues to be a very strategic market for the company. China growth has slowed down as it shifts its focus from manufacturing to services and it has impacted commodity prices globally.
India continued to be a bright spot on the global canvas with the economy growing by 7.6 per cent in FY16. In 2015-16, Mr Premji said, the gross revenues of the company crossed the landmark of Rs 50,000 crore and grew by 9 per cent year-on-year. Net income for the year grew 3 per cent year-on-year to Rs 8,892 crore.
Commenting on the new leaders at the company's helm, he said that over the past five years, the organisation has continued its transformation as a next generation technology and consulting company, with defining differentiators with clients.
T K Kurien, who led the company as the CEO till January 31, 2016, has been appointed executive vice chairman, effective February 1, 2016.
"T K Kurien will focus on key strategic initiatives while also providing continuity on client relationships without disruption," Mr Premji said.
Abidali Neemuchwala was appointed as the chief executive officer and member of the board of Wipro Ltd from February 1, 2016.
"You may recall that Abid joined Wipro as group president and chief operating officer on April 1, 2015. A strong track record of success with customers, passion for excellence and rigor in execution makes him a natural choice to lead Wipro through the next phase of growth," Mr Premji said.
The leadership transition from one CEO to the other has been extremely smooth and the organisation has been the beneficiary of that, he added.
On how digital field is reshaping the world, Mr Premji said, "We are seeing pervasive change all around us. Consumer expectations and experiences, business models, consumptions models and at times, entire industries are getting fundamentally transformed. Every business has to become a tech business and there is no choice but to rapidly build capability in this area."
To partner with the company's customers, the Wipro Digital practice offers end-to-end services across digital advisory, design and technology, Mr Premji said.
"We are investing significantly in increasing the portfolio of digital skills of our employees to be able to serve our clients effectively."
On enhanced stakeholder value, Mr Premji said the company has always striven to enhance stakeholder value for investors.
The company's philosophy is to provide regular, stable and consistent payouts. In line with this philosophy, the company announced a share buyback through a tender offer amounting to Rs 2,500 crore in addition to offering dividends of Rs 6 per share, Mr Premji said.
For the year 2015-16, dividends declared and proposed, combined with the buyback amount, will enhance the payout ratio to 48 per cent from 41 per cent for the year 2014-15, he said.
On financial capital, Mr Premji said the company continues to run very effective programmes to impact communities through multiple initiatives.
"Wipro Applying Thought in Schools is Wipro's social initiative in school education that aims to build capacities for systemic educational reform in India and has been running for over 15 years."
"Our work in education is global beyond Indian borders. We started the Wipro Science Education Fellowship in the US in 2013 with the objective of facilitating high quality science, technology, engineering and math education at the K-12 levels in US schools," he said.
On social impact, Mr Premji said that as corporations continue to play their role of driving responsible, sustainable businesses, he firmly believes that owners of corporates are trustees of wealth, which needs to be used for furthering social causes.
Mr Premji said he has irrevocably transferred about 39 per cent of the ownership of Wipro to a trust that supports philanthropic causes.
"The Trust will continue to engage closely with social issues". The excellence in business performance at Wipro would translate into value creation for shareholders, a substantial portion of which would be towards philanthropy, he added.
In 2015-16, Mr Premji said Wipro achieved the milestone of 70th anniversary and moved into its 71st year.