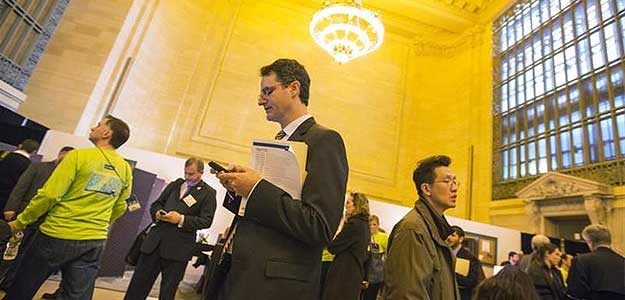 Washington: The number of Americans filing new applications for unemployment benefits fell last week to the lowest level in eight weeks, suggesting the labor market continued to strengthen despite the recent tightening in financial market conditions.

While other data on Thursday showed housing starts fell for a second straight month in August, they remained above the one million-unit mark, which signals a housing market growing at a solid clip. In addition, building permits rose last month.

The signs of a firming economy are supportive of an interest rate hike by the Federal Reserve at a meeting that concludes on Thursday. But the case for higher borrowing costs has been undermined by global financial markets turmoil.

The decision whether to raise the Fed's short-term interest rate from near zero is seen as a close call.

Initial claims for state unemployment benefits dropped 11,000 to a seasonally adjusted 264,000 for the week ended Sept. 12, the Labor Department said on Thursday. That was the lowest reading since the week ended July 18, when claims hit their lowest level since 1973.

It marked the 28th straight week that claims remained below the 300,000 threshold, which is usually associated with a strengthening labor market. Economists had forecast claims holding at 275,000 last week.

US stock index futures slightly extended losses after the data, while Treasury debt prices pared gains and the dollar rose against the yen.

The four-week moving average of claims, considered a better measure of labor market trends as it irons out week-to-week volatility, fell 3,250 to 272,500 last week.

The claims data covered the period during which the government surveyed employers for the nonfarm payrolls portion of the September employment report.


Claims fell 13,000 between the August and September survey weeks, suggesting some pick-up in job growth.
The economy added 173,000 jobs in August, a step down from July's gain of 245,000 positions that was dismissed by economists as an aberration given that job openings are at a record high, which suggests solid labor demand in the near term.
In a second report, the Commerce Department said groundbreaking for new homes dropped 3.0 per cent to a seasonally adjusted annual pace of 1.13 million-units last month.
Despite the fall, which reflected declines in groundbreaking on single and multifamily projects, starts remained above a one million-unit pace for the fifth straight month. Building permits increased 3.5 per cent last month to a 1.17 million-unit pace, after declining 15.5 per cent in July.
"August housing starts disappointed, but this is a mere blip on the radar. The housing market's underlying fundamentals remain on pace for continued recovery," said Tom Wind, executive vice-president of home lending at EverBank.
A tightening labor market has unleashed pent-up demand for housing, especially among young adults. A report on Wednesday showed confidence among homebuilders advancing to a near-decade high in September.
In August, groundbreaking for single-family homes, which accounts for the largest share of the market, fell 3.0 per cent to a 739,000 unit pace. Single-family home building in the South, where most of the home construction takes place, rose 9.2 per cent to the highest level since December 2007.
Starts for the volatile multifamily segment fell 3.0 per cent to a 387,000 unit rate. Single-family building permits rose 2.8 per cent in August to their highest level since January 2008. Multi-family building permits rose 4.7 per cent.
© Thomson Reuters 2015