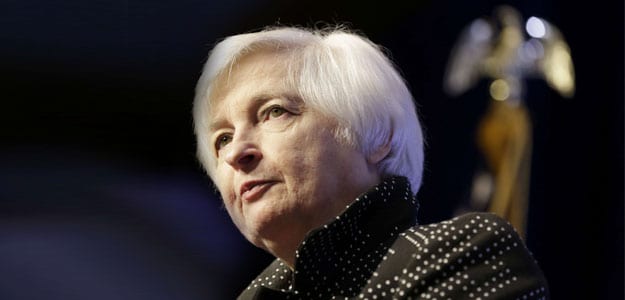 New York: Federal Reserve Chair Janet Yellen said on Wednesday she was "looking forward" to a US interest rate rise that will be seen as a testament to the economy's recovery from recession.

Fed policymakers are widely seen raising interest rates for the first time in almost a decade at their next meeting on December 15-16, but they continue to parse data and trends carefully given the uneven nature of the US recovery.

In her remarks to the Economic Club of Washington, Yellen expressed confidence in the US economy, saying job growth through October suggested the labour market was healing even if not yet at full strength.

Yellen also reaffirmed her view that the drag on US economic growth and inflation from weakness in the global economy and falling commodity prices would moderate next year. US consumer spending was "particularly solid", she noted.

"When the Committee begins to normalize the stance of policy, doing so will be a testament ... to how far our economy has come," she said, referring to the Fed's policy-setting committee. "In that sense, it is a day that I expect we all are looking forward to."

Investors are already betting the Fed will lift its benchmark federal funds rate this month from the zero to 0.25 percent range where it has been held since 2008. Economists also see a strong chance of a December rate rise.

The US dollar strengthened on Wednesday and stocks fell on Wall Street, after Yellen's comments.

"I was a little surprised she sounded as hawkish as she did given we're two days away from the non-farm payrolls report and a couple of weeks away from the Fed FOMC meeting," said Michael O'Rourke, chief market strategist at JonesTrading in Greenwich, Connecticut.

Yellen also is due to testify on the economic outlook before a joint Congressional committee on Thursday.

"Yellen gave a fairly positive assessment of the economy that would be consistent with the Fed raising rates at their December meeting," said Vassili Serebriakov, currency strategist at BNP Paribas in New York.

As in previous speeches and public appearances, Yellen said the timing of the first US rate increase in nearly a decade was not as important as the path of subsequent rises which policymakers expect will be gradual. Waiting too long to raise rates could deal an accidental blow to the economy, she warned.

"An abrupt tightening would risk disrupting financial markets and perhaps even inadvertently push the economy into recession," she said.


Responding to a question after her speech, she said the Fed would weigh incoming data to set the pace of hikes and that policymakers do not expect a mechanical path of rate moves. The Fed schedules policy reviews eight times a year and in the past it has often raised rates at successive meetings.
"This may turn out to be a very different cycle than past cycles," she said.
BEIGE BOOK SEES ONGOING EXPANSION
In its Beige Book report of anecdotal information on business activity collected from contacts nationwide, published on Wednesday, the Fed said US economic activity continued to expand at a modest pace in most regions from early-October through mid-November.
The Fed said consumer spending increased in nearly all districts. Manufacturing activity remained mixed, the Fed added, with exports continuing to fall as a result of the strong US dollar, low commodity prices and weak global demand.
LOCKHART AND WILLIAMS AGREE
Earlier on Wednesday, Atlanta Fed President Dennis Lockhart said US economic data would have to "drastically" alter the nation's outlook over the next two weeks to change the "compelling" case for an initial hike in interest rates when the Federal Reserve next meets on Dec. 15-16.
The Labor Department's monthly jobs report on Friday will be a key data point, with economists expecting that as many as 200,000 additional jobs were created in November.
In a speech in California on Wednesday, San Francisco Fed President John Williams agreed that the Federal Reserve should leave near-zero interest rates behind "sooner than later."
A Reuters poll of over 80 economists taken after the October jobs data were published found a median 70 percent probability the Fed will raise rates on Dec 16. That is up from 55 percent in a poll taken the month before, although Reuters polls have been consistently predicting a December rate rise since the Fed took a pass in September.
© Thomson Reuters 2015