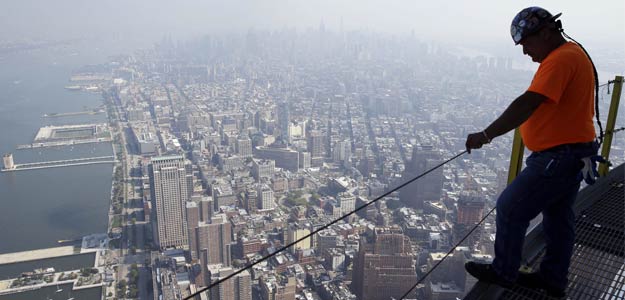 Washington: The US economy had its best year since 2010 last year even as the growth rate slowed in the final three months of 2014 with weak investment and surging imports along with other factors offsetting a burst in consumer spending.
Notably the US economy grew at 5 per cent and 4.6 per cent rates in the second and third quarter of 2014 respectively. However, the economy posted 2.6 per cent growth in the final quarter.
The Commerce Department reported on Friday that the US GDP or gross domestic product grew at an annual 2.4 per cent pace last year, up from 2.2 per cent in 2013.
Despite a considerable slowdown in the US economy as compared to previous two quarters, Jason Furman, Chairman of the President's Council of Economic Advisers, said economic growth in the fourth quarter of 2014 was consistent with a broad range of other indicators showing solid improvement in the labour market, rising consumer sentiment, increasing domestic energy security and continued low health cost growth.
"The combination of consumer spending and fixed investment grew at about the same strong pace as in the third quarter, while more volatile factors that elevated the overall growth rate in the third quarter subtracted from it in the fourth quarter," Mr Furman said.
"The President's approach to middle-class economics, including the proposals he will release in his Budget on Monday, would build on this growth while helping to ensure that our recovery is widely shared with all American families," he said.
According to the latest figures released by the Department of Commerce, real gross domestic product
(GDP) grew 2.6 per cent at an annual rate in the fourth quarter of 2014.
"The report reflects very strong consumption growth, continued increases in residential investment, weaker business investment after two quarters of strong growth, an unusually large decline in federal spending that reversed last quarter's above-trend increase, and stronger imports, which while subtracting from GDP, partly reflect improved consumer sentiment," the White House said.
"Overall, real GDP rose 2.5 per cent versus the fourth quarter of 2013. Indeed, today's report affirms the underlying pattern of resurgence in the economy," it said.
"US economic growth retreated to a modest pace in the final months of 2014, underscoring obstacles facing the recovery as troubles mount abroad," The Wall Street Journal reported.
Noting that the economists surveyed by The Wall Street Journal had expected fourth-quarter growth of 3.2 per cent, the daily said the report portrayed a persistently uneven recovery that is yet to fire on all cylinders.