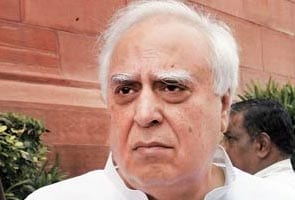 New Delhi:
American companies show more interest in selling aircraft and defence equipment to India than in investing in its manufacturing sector, which needs to be developed to reduce the country's import dependence in areas such as electronic goods, Telecom Minister Kapil Sibal said on Monday.
He also expressed concern over the US visa norms that impact Indian professionals, especially in the IT sector.
"They (US based investors) are interested in selling their Boeings, they are interested in selling aircrafts, defence equipments but that is not the way to converge in this partnership. I am sorry I am bring very frank but it's the time to be frank," Mr Sibal said at a summit organised by the Indo-American Chamber of Commerce.
"Today, because of high wages cost in China, manufacturing facilities are shifting to India. Japanese are very keen to invest in India, I don't know why the Americans don't come forward."
A lot of countries are ready to invest in India's electronic sector including Israel but US-based companies have not shown interest, he said, adding that India has no option but to develop manufacturing base to reduce trade deficit.
If India's manufacturing base is not developed, there will be a trade deficit of $300 billion on account of consumer electronics.
"The present import bill of crude oil is about $140 billion. Do you think Indian economy can afford to import $300 billion of consumer electronics. We will become bankrupt. We have no choice to build anufacturing sector in our country," Mr Sibal said.
He also raised the issue of visa hurdles being faced by for Indians trying to go to US.
"You are a country that talks about liberalisation of global economy and yet you are increasing cost of our IT sector by trying to impose restriction on our people trying to go to US. I don't think this is the right attitude for partners," Mr Sibal said.
"Remember we are the oldest and most powerful democracy of the world. Willy nilly, we are long term partners, whether you like it or not."
The minister called for a change in the mindset of global investors, saying that the economic model should look at ways to increase the buying power of Indian consumers which, in turn, will help grow the global trade.
"The economic model has to change. You can't sell goods to consumer in India when he has no capacity to buy. Perhaps 1-2 per cent elite may buy your products, but 90 per cent will not. You need to invest in Agriculture, medical electronics, education."
"Unless you help Indian economy at bottom of pyramid, you won't be able to increase buying capacity of Indian consumers," Mr Sibal added.