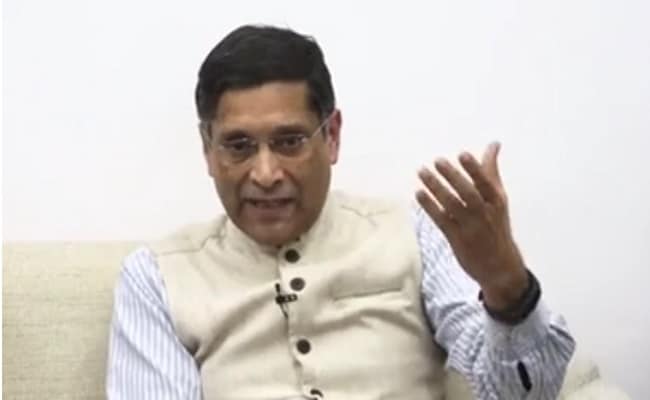 Ahmedabad:
Chief Economic Advisor Arvind Subramanian today said Universal Basic Income (UBI), as proposed in the recent Economic Survey, can be put in place only after withdrawal of the existing welfare projects.
"The cost of this programme (UBI) is so huge that it cannot be an add-on to the existing programmes (welfare schemes) as the government cannot afford it and the government's finances will go bust," Subramanian said while addressing students of the Indian Institute of Management-Ahmedabad (IIM-A) here.
"In India, UBI scheme is about upliftment of the poor...The government spends a lot of money in social welfare schemes, but they do not reach the targeted audience," he said.
"Advantage of UBI is a very interesting way of overcoming the problem of governmental targeted spending," Subramanian, also an alumnus of IIM-A, said.
But he sounded a note of caution as "it is very easy to introduce new programmes in the country, but it is very difficult to withdraw the existing ones".
"Though this idea has been appreciated as a good one to alleviate poverty and provide basic level of income to people, it should be implemented in a way that is sustainable," the chief economic advisor suggested.
People will make a hue and cry if something given to them is withdrawn, he said.
Subramanian's UBI proposal in the Economic Survey had led to speculation on whether the government will implement it in the country.
Citing the example of MNREGA for leakage in welfare schemes, the CEA said targeted audience does not get desired benefits as the scheme is implemented through various governmental levels.
He also countered the notion that giving money in hands (bank accounts) of the poor will mean that they are going to squander it. "If the money is given to women under UBI, there are less chances that it will be squandered," he said.
In reply to a question on why India is lacking in competition, especially in the manufacturing sector, he said the combination of choices India made after Independence is to blame.
"Combination of choices we made during our initial year were not conducive for development of the manufacturing sector in India. We had stressed on the public sector, we had all these controls and all sets of industrial licence. Combined with the lack of infrastructure development, (it) stifled the manufacturing sector," he said.
"Now, we are trying to undo what we had done for 30-40 years (after Independence), which is a huge historical challenge," he added.
On the issue of blackmoney, he said that it is important to stop its generation and flow after demonetisation.
Sharing data from the Survey, Subramanian talked of convergence as developing countries are growing rapidly while the growth rate of developed ones has slowed.
But against this, "surprisingly" in India, there is divergence as so-called backward states in the last 15-20 years are not progressing rapidly while forward ones have continued to grow, he said, adding that this shows that income disparity between states in India is increasing.
(This story has not been edited by NDTV staff and is auto-generated from a syndicated feed.)