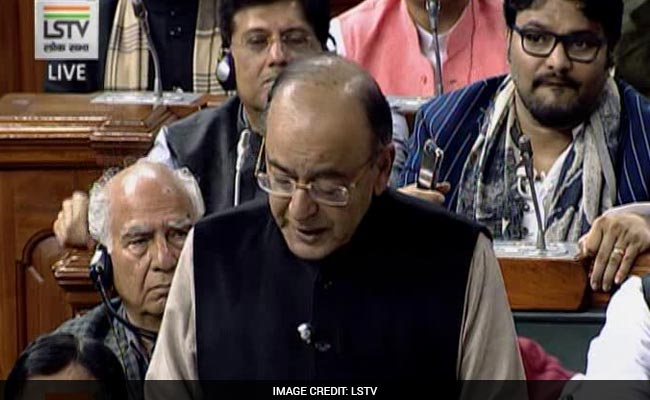 Highlights
Finance Minister presented his first Budget after demonetisation
He defended notes ban saying its impact would not spill over to next year
Income tax halved for those earning between Rs 2.5 to 5 lakhs
New Delhi:
Finance Minister Arun Jaitley began his Budget speech today with a strong defence of the notes ban, promising that its impact on the economy would not spill over to the next year. He then presented a plan to cushion sections that have been worst hit by demonetisation, pledging to spend more on the rural poor, doubling income of farmers and cutting income tax for individuals who earn between 2.5 to 5 lakh and corporate tax for small companies. He did not however pack the budget with election freebies as was expected three days before polling in two states. Markets were 500 points up after the speech, relieved, analysts said, that it held no shocks for industry. Prime Minister Narendra Modi described it as a Budget for the FUTURE - farmers, underprivileged, transparency, urban rejuvenation, rural development, enterprise.
Arun Jaitley's first budget after the notes ban in 10 points:
To cover his spending promises, focused on the poor, the Finance Minister has raised the fiscal deficit target to 3.2 per cent of the GDP for 2017-18, higher than the 3 per cent pledged earlier. But he has vowed prudent fiscal management and said he was committed to a 3 per cent fiscal deficit the year after.

Continuing with the government's war on black money, Mr Jaitley has proposed a ban on all cash transactions above Rs 3 lakh beginning April 1, 2017. (Watch)

In an attempt to clean up political funding, Mr Jaitley announced that donations in cash, currently allowed up to Rs 20,000 without explaining the source, will now be capped at Rs 2,000.

Income tax for persons who earn between 2.5 to 5 lakh has been cut from 10% to 5%. So after rebates, a person with a 3 lakh income has a zero tax liability, the Finance Minister said. To offset the loss to the government from this, those who earn between 50 lakh and one crore a year will now pay a 10% surcharge. Those who earn more than one crore a year, will continue to pay a 15% surcharge.

The total expenditure of the budget presented today is Rs 21.47 lakh crore, the minister said. Defence Expenditure, excluding pensions, has been set at 2.74 lakh crore

In a major reform, Mr Jaitley has announced that the Foreign Investment Promotion Board (FIPB) will be abolished, removing what is seen as a major hurdle for foreign investors. The FIPB clears applications for direct investment by outside investors.

He has announced the "highest ever allocation" of 48,000 crores for the rural employment scheme MNREGA. Agriculture, said Mr Jaitley, is expected to grow at 4.1 per cent, announcing a number of measures to benefit farmers and the government is committed to doubling the income of farmers.

The Finance Minister has allocated Rs 10,000 crore towards recapitalisation of public sector banks and said additional allocations would be made "as and when required."

Mr Jaitley said demonetisation, announced in November last to eliminate corruption and black money, was a "bold and decisive measure" that "seeks to create a GDP which is bigger, cleaner and real." We are seen as an engine of global growth," the Finance Minister said, cautioning that the prospect of US interest rate hikes, rising oil prices and signs that globalisation is in retreat could adversely affect India.

Mr Jaitley said advancing the Budget by a month would help government departments start schemes right from the start of the fiscal year. He also said the merger of the Rail Budget with the Union Budget was a historic step, promising that the autonomy of the Railways would be maintained. The opposition has alleged that the government advanced the Budget to be able to offer sops before elections in five states this month.