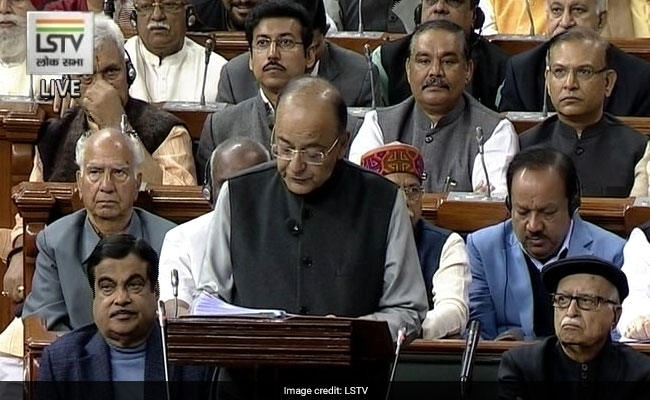 Agriculture got prime time attention in the
Union Budget 2018
presented by Finance Minister Arun Jaitley today. The Union Budget 2018 was also the last full-year budget before the general elections in 2019 and eight state assembly elections this year. Delivering his opening statement, Mr Jaitley switched from English to Hindi as he outlined schemes to promote agriculture, organic farming, animal husbandry and fisheries, ensuring that he was understood by people living in rural areas. "Prime Minister Narendra Modi has given a clarion call to double farmers' income by 2022, the 75th year of India's independence," Mr Jaitley said in parliament. The minimum support price of all crops will be increased to at least 1.5 times of production cost. He has also announced a healthcare scheme to cover 10 crore poor families, saying "50 crore beneficiaries will get Rs 5 lakh per family per year." The scheme is the world's largest government-funded healthcare programme, Mr Jaitley said.
Here are the highlights on the Union Budget 2018:
Prime Minister Narendra Modi speaks on Budget 2018
- This Budget strengthens the expectations and aspirations of 1.25 billion people.
- It is pro farmers, businesses and the common man.
- Ease of living a focus big along with ease of doing business.
- These measures will open new means of employment in rural areas.
- I congratulate the Finance Minister for the decision regarding MSP (minimum support price). I am sure it will help farmers tremendously.
- The 'Gobar Dhan' scheme will also help to keep the village clean, as well as increase farmers' income.
- 'Ayushman Bharat Yojana' will help all sections of society, provide 10 crore poor families with health insurance. This is the world's largest government-funded healthcare scheme
- The establishment of 24 new medical colleges will help the youth to pursue medical studies. Our endeavor is to have at least one medical college in three parliamentary areas in the country.
- Senior citizens will now receive at least 8% interest on amounts upto Rs 15 lakh. There will be no tax on interest of up to Rs 50,000 on their funds deposited at post pffice and banks
- To ensure more take-home salary for women, the EPF for women employees has been reduced to 8%
- For better ease of living, infrastructure is very important. 6 lakh crore allotted for 'next generation' infrastructure. This is 1 lakh crore more than last year.
- I congratulate the Finance Minister and his team for a Budget that ensures ease of living and strengthens the foundation of a new India.