Do you own a PAN card? Whether you earn a salary or are self-employed, PAN or Permanent Account Number is mandatory. This 10-character long identification number is issued by the Income Tax Department. If you haven't obtained your PAN card already, now a new way is available for applying for one. Mobile app UMANG provides more than 100 services on a single mobile app - including one that enables users to apply for a new PAN card. This was said by IT Minister Ravi Shankar Prasad on microblogging site Twitter.

A beta version - which is a version released for testing before its general release - of the UMANG app is available for now. "Try beta version of UMANG app and share your feedback," Mr Prasad further said. UMANG app lists various digital services offered by central and state governments. Some of these services include My Pan, EPFO (Employees' Provident Fund Organisation), Bharat Gas, NPS (National Pension System), PMKVY (Pradhan Mantri Kaushal Vikas Yojana), CBSE (Central Board of Secondary Education ) and AICTE (All India Council for Technical Education).
#UMANG provides more than 100 services on a single mobile app. Now you can apply for a new PAN Card through this app. Try beta version of UMANG app and share your feedback. #DigitalIndiapic.twitter.com/fwj8S40rD3
— Ravi Shankar Prasad (@rsprasad) November 12, 2017
How to prepare your PAN card application online using UMANG app:

The UMANG app connects users with the My PAN service, provided by the UTI Infrastructure Technology And Services Limited or UTIITSL. An issuer of PAN card, UTIITSL is a government-owned company which provides technology and outsourcing services to the financial and government sectors.

Using the My PAN service, an applicant can prepare their PAN application by taking up e-KYC (Know Your Customer). The user does so by providing his or her Aadhaar details in the name, date of birth, address and mobile number fields. The e-KYC is carried out through an OTP or One-Time Pin method through the mobile connection registered with Aadhaar.

The UTIITSL has shared guidelines for submitting a PAN application and making payment online through the My Pan app.
Here are 10 things to know:

1. Users can fill the PAN application through Form 49A in offline mode. That means the app takes data from the user and generates the full application, which can be submitted subsequently to a UTIITSL branch. Form 49A is used for applying for a permanent account number (PAN) by citizens or companies.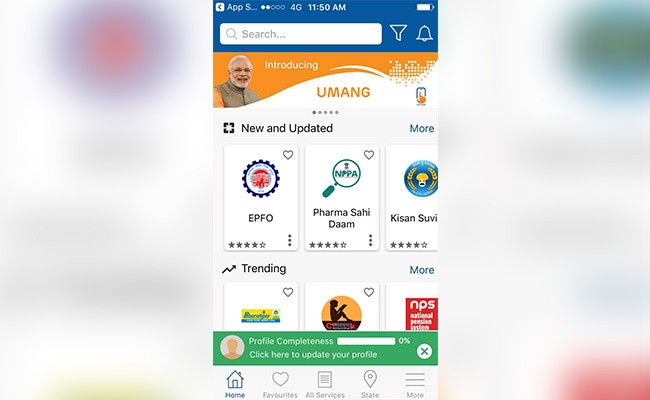 2. The My PAN app requires internet for selecting the identity proof documents and submission of application.

3. Once in the app, a user can proceed by selecting between the status of applicant from the two options available - individual and company. After making a selection, click on the 'next' button.

4. An 'application number' is generated on successful submission of the form. After this step, the applicant can proceed to the 'make payment' page.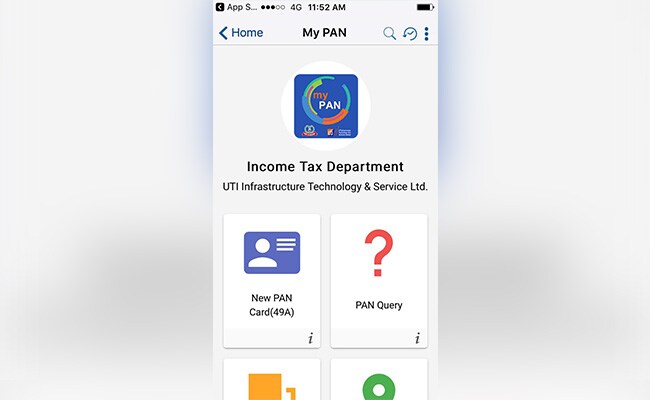 5. After a successful payment, the applicant can generate a digital document file (in PDF format) by clicking on the 'generate PDF' button. This digital file can be saved by the user on the device or memory card.

6. The My PAN app also enables the user to view the PDF file by clicking on the 'open PDF' button. This file can also be emailed or printed out.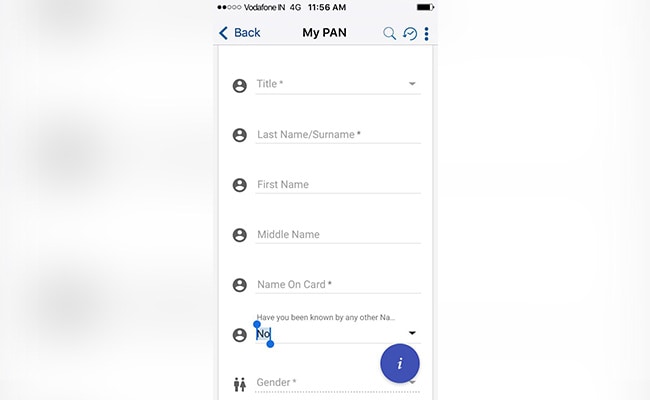 7. After taking a printout of this digital file, the applicant is required to affix on it two photographs of size 3.5 cm x 2.5 cm.

8. The application requires the applicant to provide his or her signatures at three specified positions on the form: one across the affixed photograph on the left hand box, one below the photograph in the right hand box, and one in the space provided on page 2.


9. With the application form now complete, the applicant can attach the copies of relevant documents as proof of identity, proof of address and proof of date of birth.
10. After this step, the applicant can submit or dispatch the set of documents to the nearest UTIITSL office.
How to download mobile app UMANG:

The mobile app is available on both Android and Apple platforms. Those using Android smartphones as well as iPhone users can download the UMANG app through Play Store and App Store respectively.
Some services offered by UMANG:

UMANG app, among other features, enables CBSE students to locate the exam centers. CBSE students can also view their examination results using the UMANG application.

UMANG app enables students, teachers, parents and schools to view class-wise and subject-wise content provided by NCERT in online and offline modes.

Citizens can search for AICTE- or All India Council for Technical Education-approved institutes and courses using UMANG app.

Using UMANG app, citizens can apply as a candidate under the government's skill development scheme PMKVY (Pradhan Mantri Kaushal Vikas Yojana) and view their application.
Get Breaking news, live coverage, and Latest News from India and around the world on NDTV.com. Catch all the Live TV action on NDTV 24x7 and NDTV India. Like us on Facebook or follow us on Twitter and Instagram for latest news and live news updates.