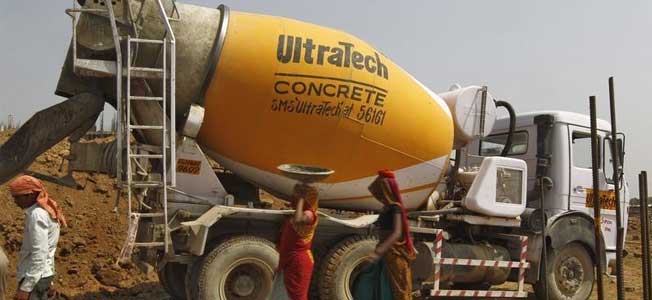 New Delhi:
Ultratech Cement on Tuesday reported a 29 per cent growth in consolidated net profit at Rs 780.11 crore for the quarter ended June helped by better sales and cost optimisation measures.
The flagship firm of the Aditya Birla Group had clocked a net profit of 603.72 crore in the year-ago period, it said in a regulatory filing.
Total consolidated income of the cement-maker rose by 4 per cent to Rs 6,589.71 crore in April-June quarter this fiscal from Rs 6,341.41 crore during the same quarter in the previous fiscal.
The firm further said that "sales volume registered a growth of 6 per cent over that of the earlier year." It registered sales volume of 12.57 million tonnes during the June quarter of 2016-17.
The quarter witnessed improvement in operating costs on the back of operational efficiencies and a judicious power and fuel mix, it added.
The cost of production declined by 7 per cent to Rs 3,643 per tonne during April-June quarter. However, the firm said:
"Cost to increase going forward with upward movement in fuel prices."
On the Jaypee Group deal, the firm said that financing for the deal has been tied up and application for approval to the fair trade regulator CCI has also been filed.
The firm will approach the concerned High Courts by August and the transaction is expected to complete in the "next 9-10 months after getting all the regulatory and shareholders approval."
In March, Ultratech announced that it will acquire Jaypee Group's cement plants in Madhya Pradesh, Uttar Pradesh, Uttarakhand, Himachal Pradesh and Andhra Pradesh with a total capacity of 21.20 million tonnes per annum at an enterprise value of Rs 16,189 crore.
In an investor presentation, Ultratech said the FII investment limit has been increased to 30 per cent from the earlier 24 per cent.
On outlook, the firm said during the year, cement demand is expected to grow around 7 per cent, given the government's focus on infrastructure development, housing sector, smart cities, roads, etc.
"Pick-up in rural housing on the back of normal monsoon and 7th pay commission disbursement and development activities in Uttar Pradesh, Punjab, Andhra Pradesh and Telangana," it added.
However, it said that delay in execution of government projects, slowdown in urban real estate and increased fuel prices are areas of concern.