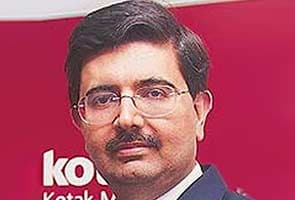 Eminent banker Uday Kotak has been named the 'World Entrepreneur of the Year 2014' by global consultancy EY, making him the only Indian after to win the award after Infosys' N R Narayana Murthy.
Mr Kotak, who is the founder, executive vice chairman and managing director of Kotak Mahindra Bank, was awarded the title late on Monday at an event in Monaco's Salle des Etoiles.
Infosys' N R Narayana Murthy, currently the executive chairman of India's second largest IT services provider, had won the title 11 years ago in 2003.
Mr Kotak was chosen by a 10-member global jury. He was picked from among 60 finalists from 51 countries.
"The world now needs entrepreneurs more than ever to create sustainable, permanent jobs to help secure a global economic recovery. Uday is a truly inspiring World Entrepreneur Of The Year winner for 2014 and together, he and our 59 other country winners are truly helping to build a better working world," said Mark Weinberger, global chairman and CEO of EY.
"I'm delighted and honored to receive this prestigious award at such a spectacular event. It is recognition of the skills and dedication of the 25,000 employees of KMB (Kotak Mahindra Bank) who have worked so hard to build a world class Indian financial services brand," Mr Kotak said.
The judging panel's chief in a statement said that Mr Kotak was "recognised for creating a new bank in a challenging and highly regulated environment; with strong focus on inclusive growth".
"We were impressed with his strong focus on inclusive growth, providing low-cost services to rural customers that have a tangible impact on people's lives," said Rebecca MacDonald, chair of the world entrepreneur judging panel. She is the founder and executive chair of Just Energy Group.
Mr. Kotak set up Kotak Capital Management Finance Ltd in 1985. In 2003, the group became the first non-banking finance company (NBFC) in India's corporate history to be converted into a bank.
The Kotak Mahindra group, considered one of India's leading financial services conglomerates, has progressed from a seed capital of less than $250,000 to an international group with $2.8 billion (Rs 16,520 crore at 1 dollar = 59 rupees) in revenues.
Headquartered in Mumbai, the lender has 605 full-fledged branches across 354 locations across India. It also runs global offices in cities like London, New York, Dubai, Abu Dhabi, Mauritius and Singapore.
In the early 1980s, Mr Kotak rejected an offer to work for Hindustan Lever, Unilever's subsidiary in India, in order to set up his own business.
He set up Kotak Capital Management Finance, a non-bank finance company, one of many others set up at the time.
In the early years, Mr Kotak forged several partnerships with global financial giants to leverage his group's brand and expertise. In 1995, Goldman Sachs became a minority partner in the investment banking and stock broking part of Kotak Mahindra Bank and in 2007, it offered to buy out the group.
EY is a global leader in assurance, tax, transaction and advisory services.