Indian Railways' all-new Utkrisht Double Decker Air Conditioned Yatri (UDAY) Express is all set to make its debut. This double decker train, specially designed to cater the business class, will run on the busiest routes of India. According to a tweet posted by official handle of Piyush Goyal, Minister of Indian Railways' UDAY Express will operate on three routes initially- Coimbatore-Bengaluru, Bandra-Jamnagar and Visakhapatnam-Vijayawada. UDAY Express will be equipped with numerous specifications like LCD screens, Wi-Fi, dining space, large LCD screens, among others.

Check timings and duration of all three routes

1. The first UDAY Express is likely to be operational on the Coimbatore-Bangalore route. According to the tweet, the first UDAY Express train i.e. 22666 Coimbatore-Bengaluru UDAY Express will depart at 5:40 am from Coimbatore and reach Bengaluru at 12:40 pm.
(Read: Railway Train Ticket Cancellation, Refund Rules For AC I, AC 2, AC 3, Sleeper Class)
This journey will take a total of 7 hours. For the return journey, the 22665 Bengaluru-Coimbatore UDAY Express will depart at 2:15 pm from Bengaluru and reach Coimbatore at 9:00 pm, taking a total time of 6 hours and 45 minutes.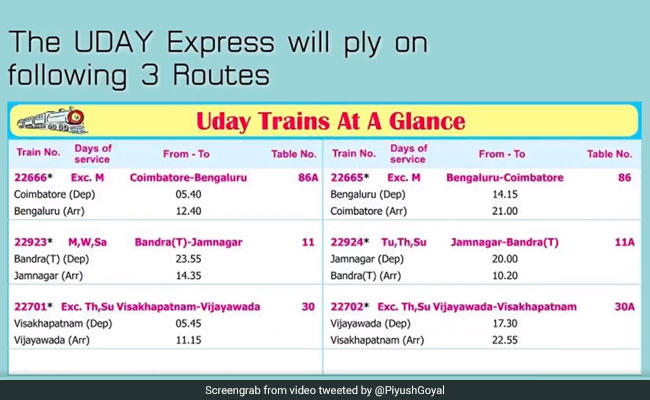 2. 22923 Bandra-Jamnagar UDAY Express will start from Bandra at 11:55 pm and reach Jamnagar at 02:55 pm, taking a total of 15 hours. On the return journey, 22924 Jamnagar-Bandra UDAY Express will start from Jamnagar at 08:00 pm and reach Bandra at 10:20 am, taking a total of 14 hours twenty minutes.
(Read: Tatkal Train Ticket Cancellation Rules For Confirmed, RAC, Wait-Listed Tickets)

3. 22701 Visakhapatnam-Vijaywada UDAY Express will start at 5:45 am from Visakhapatnam and reach Vijaywada at 11:15 am, taking a total of 5 hours 30 minutes while 22702 Vijaywada-Visakhapatnam UDAY Express will start at 5:30 pm from Vijaywada and reach Visakhapatnam at 10:55pm, taking a total of 5 hours 25 minutes.
Get the latest election news, live updates and election schedule for Lok Sabha Elections 2019 on ndtv.com/elections. Like us on Facebook or follow us on Twitter and Instagram for updates from each of the 543 parliamentary seats for the 2019 Indian general elections.