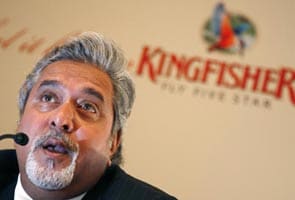 Kolkata:
United Bank of India (UBI) will ask Vijay Mallya, chairman of the grounded Kingfisher Airlines, to appear before an internal committee to defend himself before the lender declares him a wilful defaulter.
"We will soon send a letter to Vijay Mallya and ask him to appear before an internal committee of the bank to defend himself...," UBI executive director Deepak Narang told PTI on Friday.
The city-based lender had earlier sent a notice to Mr Mallya in this regard and given 15 days to him to respond.
"Mallya replied that he was willing to come and a date will be given this month," Mr Narang said.
Mr Mallya, he said, would be asked to come to the lender's head office in Kolkata this month.
UBI was the first among other banks in the country to take such a stern step against the liquor baron, he added.
UBI's exposure to Kingfisher Airlines was around Rs 350 crore, he said.
A lender declares a person a wilful defaulter when it is satisfied that the borrower did not pay despite having the ability and funds diversion, he said.
"We have thoroughly scrutinised all the documents and we are completely satisfied."
Since the bank does not have a chairman at present, the matter would be preferably taken to the board for approval, Mr Narang said.
State Bank of India (SBI), the country's largest lender, is also exploring ways to declare Mr Mallya a wilful defaulter and is currently carrying out a forensic audit of documents.
Once declared a defaulter, Mr Mallya would have to step down from board-level positions of companies and would be debarred from getting future bank finance.