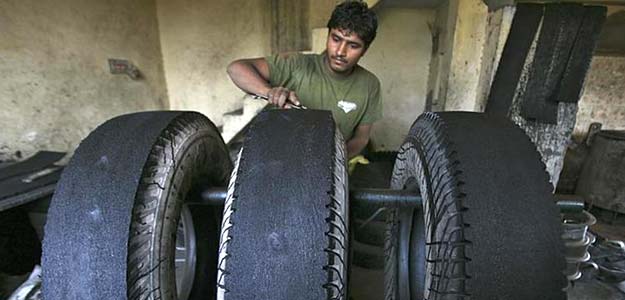 Mumbai
: The continuing massive jump in cheap imports of tyres, especially those of buses and trucks, from China, which rose 138 per cent in the first quarter, may lead to a revenue decline for domestic tyre manufacturers, says a report.
These are priced 25 per cent lower than the domestically produced ones, it said.
The import volume of tyres in truck & bus (T&B) and two-wheeler segments rose 25.3 per cent and 120.5 per cent, respectively, in the first quarter of this year on an annual basis.
Out of the above, of the particular concern is the rise in imports in the T&B segment which accounts for around 60 per cent of domestic tyre industry's revenue, India Ratings said in a report on Monday.
It, however, did not mention how much could be the possible revenue loss.
Chinese imports in the T&B segment rose 138 per cent y-o-y in the first quarter of this fiscal year to Rs 230 crore now accounting for around 80 per cent of the total segment imports.
"Our analysis indicates that growth in the T&B radial imports was 80 per cent in the first quarter, with import volumes reaching 0.3 million tyres which is around 22 per cent of the domestic production on an annualised basis. This could be attributed to higher imports from China."
"The rise Chinese imports is likely to continue, driven by reduced demand in China as well as imposition of high countervailing and anti-dumping duties by the US on Chinese tyres," the report said.
Imported T& B radial tyres are priced 25 per cent lower than domestically produced ones. This trend has accelerated radialisation in the T&B segment to around 33 per cent in FY15, which was only 26 per cent in FY14.
Major domestic players have announced capacity expansion in the T&B radial tyre segment to capture the increasing radialisation. But, a majority of these capacities are likely to come online over FY16-FY17.
Rising imports could hit the replacement T&B segment, which is a significant market for domestic companies.
Currently, Chinese T&B radial tyres are not cost effective on per km usage basis in relation to domestic tyres and have minimal acceptability among large fleet operators and OEMs.
Rising acceptability of cheap Chinese tyres comes even though the domestic players score over Chinese on branding, warranty, aftersales service and distribution network.
Domestic T&B production declined 5.5 per cent y-o-y in FY15 to 11.5 million tyres.
According to India Ratings, 20-30 per cent of the revenue of the top players in the industry is being contributed by T&B segment. Domestic T&B radial tyre production rose 31 per cent in FY15, the highest among the major segments in the domestic industry.