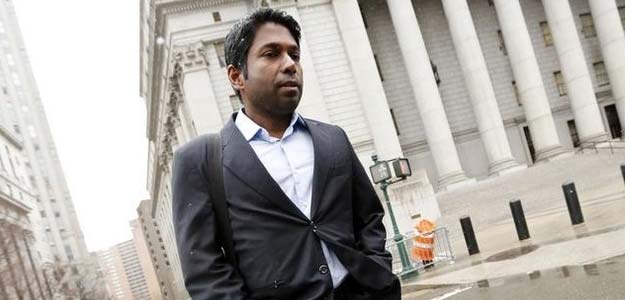 New York:
A US judge on Tuesday dismissed two securities fraud counts against Rengan Rajaratnam, the younger brother of Galleon Group founder Raj Rajaratnam, in a surprise development in the federal criminal insider trading case.
Rengan Rajaratnam, a former Galleon fund manager, still faces a conspiracy count, after US District Judge Naomi Reice Buchwald at a hearing in Manhattan dismissed other counts related to improper trading in technology company Clearwire Corp.
Buchwald said the question was whether Rengan Rajaratnam traded on inside information about Clearwire knowing the tipper breached his duties to keep it secret and in exchange for a personal benefit.
"I find a reasonable jury could not so find," she said.
The decision, which is not appealable, spared Rajaratnam from the most serious charges he faced. Each carried a maximum term of 20 years in prison, compared with five years for the conspiracy count.
Buchwald adjourned without ruling on whether she would dismiss the conspiracy count, though she indicated she likely would not.
Daniel Gitner, Rajaratnam's lawyer, and a spokesman for Manhattan US Attorney Preet Bharara declined comment.
Prosecutors had accused Rajaratnam of conspiring with his older brother to trade on inside information about Clearwire and Advanced Micro Devices Inc in 2008.
Prosecutors contended a tip to Raj Rajaratnam in March 2008 - that Intel Corp was planning to invest $1 billion in Clearwire - helped Galleon to reap $700,000 and Rengan to earn $100,000.
The government said the tip came from Rajiv Goel, then an Intel executive who pleaded guilty in 2010 to charges stemming from the scheme and received two years of probation.
At trial, Goel said Raj Rajaratnam helped him financially, earning his friend $700,000 to $800,000 trading in his personal account, lending him $100,000 in connection with a home purchase and providing $500,000 to help keep a family property in Bombay.
But on Tuesday, Gitner argued no evidence showed Rengan Rajaratnam knew who Goel was, let alone that he was receiving anything from supplying tips to his brother.
"There is no evidence - nothing - that he knew," Gitner said.
The question of whether Rajaratnam knew of benefits Goel received gained importance in light of an insider trading appeal by two fund managers convicted in 2012. Todd Newman, a former Diamondback Capital Management portfolio manager, and Anthony Chiasson, co-founder of Level Global Investors, have argued prosecutors must prove defendants knew the original source of the tips benefited from the disclosure.
During arguments before the 2nd US Circuit Court of Appeals in April, judges on the panel appeared sympathetic to the defense. Before the appeal, prosecutors were expected to argue jurors could convict Rajaratnam even if he did not know the tipsters received any benefits. But on May 12, prosecutors said out of an "an excess of caution," they would stand back on that issue for purpose of the trial.
Copyright: Thomson Reuters 2014