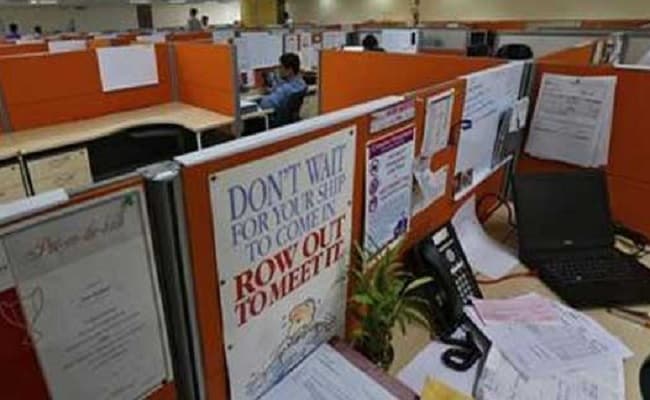 Highlights
Kotak Institutional Equities highlights factors concerning Indian IT
Total hiring by top four Indian IT firms down 12% year-on-year
Tech Mahindra surprised positively on topline growth, the brokerage adds
Most of the big Indian IT companies have reported their earnings for the December quarter. How was this period for Indian IT companies? How is 2017 shaping up for these companies? Brokerage Kotak Institutional Equities has come out with a report where it has highlighted many other factors concerning Indian IT sector.
Here are some
highlights
from the Kotak report:
Hiring
Total hiring by the top 4 Indian IT companies - TCS, Infosys, Wipro and HCL Tech - in the December quarter was at 13,100, down 12 per cent on a year-on-year comparison. Hiring in 9 months of FY17 (April to December) was down 21 per cent to net of 42,786. Decline in net hiring is not a surprise and consistent with-(1) slowdown in growth rates and (2) effort of Indian IT to drive up productivity.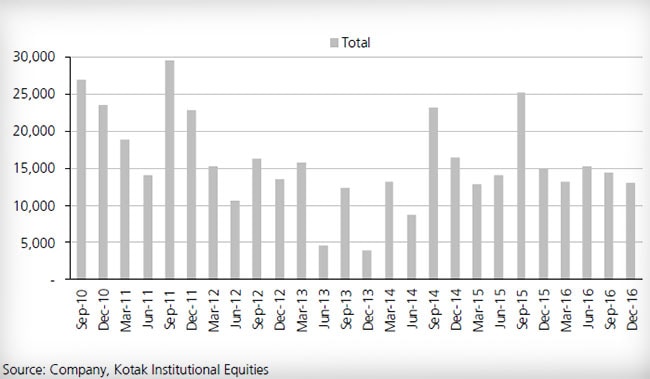 Attrition
Attrition rates have eased across companies understandably so in view of soft hiring trends.

Revenue growth
Topline growth was a tad soft but in line with estimates and in sync with seasonal weakness, with the exception of Tech Mahindra, which surprised positively. Tech Mahindra led the pack with a quarter-on-quarter constant currency growth of 5.4 per cent, followed by HCL Tech (3 per cent), TCS (2 per cent), Wipro (0.6 per cent). Infosys' 0.3 per cent constant current revenue decline was due to a ramp-down in the RBS project.
EBIT margin springs a positive surprise
Despite concerns on pricing, appreciation of the rupee against other currencies and investments in digital, many companies managed to keep margins stable year-on-year and surprised positively on a sequential basis. Kotak believes that margin protection has been driven by a mix of compensation optimization and operational improvement (increase in utilization rates, cost rationalization, etc.). Progress on automation will be critical to sustain profitability in the medium term.
The disconnect in TCV (total contract value) and revenue growth rates
While not specific to the quarter, Indian IT has been announcing increased quantum of large deal wins. Yet this has not contributed to higher incremental revenues or revenue growth. Kotak has attributed this trend to two factors: (i) slowdown in normal flow business, which was a good chunk of incremental revenues for Indian IT. This is on account of shift of business to digital where share of consulting firms are higher for early stage opportunities, and (ii) increasing instances of consolidation even among Tier-1 vendors. While TCV might signify new business won, there is also a fair bit of loss of business in traditional areas due to recurring vendor consolidation initiatives of client and normal productivity commitments that deflates revenues. Backlog of order book to be executed is a critical metric to track but not shared by Indian IT companies.
Outlook for 2017
The setup is promising with (i) initial indications of higher spending in financial services vertical; (ii) announcements of integrated digital deals, albeit sporadic, and (iii) no acceleration in intensity of captive shift as witnessed at the beginning of CY2016. These factors indicate that CY2017 holds promise for the Indian IT. However, these positives are partly negated by simple roll-over of budgets, awaiting broad policy direction of the new US government leading to soft start to the year. Indian IT will likely grow 8-9 per cent in FY2017 and could grow at same pace or accelerate in FY2018. Expect divergence in performance of companies depending on the mix of business (run versus change) and ability to capitalize on the digital opportunity.