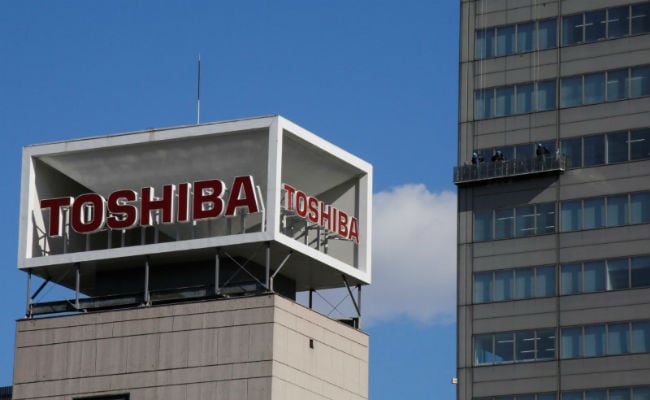 Tokyo
- Toshiba Corp asked creditor banks for a new loan and offered as collateral a stake in its memory chip unit that is being split off, sources said, underlining the firm's growing financial woes as it braces for a multi-billion dollar loss.
The TVs-to-construction Japanese conglomerate expects to book a net loss of about $9 billion for the year ended March, due to a writedown related to cost overruns at its U.S. nuclear unit Westinghouse that recently went bankrupt. Toshiba has put up most or even all of its prized chip unit - the world's No.2 producer of NAND chips - to cope with this financial maelstrom.
On Tuesday, in a meeting with creditor banks, Toshiba asked for "a new lending facility", said sources with direct knowledge of the matter, who did not want to be named as they were not authorised to discuss the matter publicly. It has previously requested creditors not to call in their loans.
The company did not say how much it was looking for in new loans, most of the sources said. But one source said Toshiba may seek a new loan worth around 300 billion yen ($2.7 billion).
A stake in the memory chip unit was offered as collateral both for a new loan and for existing loan commitments worth 680 billion yen provided by major lenders, sources said. Loan commitments are a promise to lend upon a borrower's request.
It again offered shares in group companies such as Toshiba Tec Corp and real estate properties as collateral for existing loans, said the sources, adding the conglomerate had asked creditors to give their nod by April 14.
A Toshiba spokesman confirmed the meeting, but declined to elaborate on the specifics of the discussion.
The collateral offer is part of Toshiba's efforts to secure the support of its lenders, some of whom have become growingly frustrated with the conglomerate's financial troubles.
Some smaller creditors have also balked at the collateral offer, as bigger lenders are seen receiving the most valuable chip unit shares, the sources said.
Shares in Toshiba plunged for a second straight day after Reuters reported the troubled conglomerate would likely miss a third deadline to report its quarterly business results, which could force the firm to ask for a fresh extension or face a possible delisting from the Tokyo Stock Exchange.
Asked about Toshiba's potential delay, Japanese Trade Minister Hiroshige Seko said it was important for listed companies to have sufficient information disclosure and to ensure effective corporate governance.
Toshiba shares ended down 9.4 percent on Tuesday, following a 5.5 percent drop the previous day.
(Except for the headline, this story has not been edited by NDTV staff and is published from a syndicated feed.)