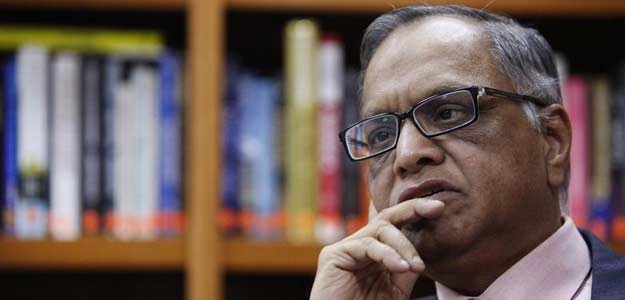 For investors and analysts, who had given up on Infosys after a series of disappointing results, the June quarter earnings came as a huge surprise. Infosys was expected to report good numbers in Q1, but even the most bullish analyst on the Street had not anticipated the IT major to beat its bigger competitor - TCS - in topline growth.
While
many analysts credited CEO Vishal Sikka's leadership
, some have also attributed Infosys' superlative Q1 to co-founder Narayana Murthy, who returned from retirement to lead Infosys between June 2013 and June 2014.
Mr Murthy's 12-month tenure as executive chairman of Infosys saw the resignations of at least 12 top-level executives. Infosys' global sales head, head of US sales, BPO sales head, India head and a former chief financial officer were among those who quit India's second biggest outsourcer in the run-up to Dr Sikka's appointment as CEO in August 2014.
According to analysts from domestic brokerage Ambit Capital, the top-level churn at Infosys last year may have helped clear "deadwood", paving way for "improved sales, better delivery and more differentiation".

"A number of senior executives at Infosys who had risen up the ranks purely by virtue of being present at the right place (Infosys) at the right time (pre-IPO) had by 2008 turned into a bottleneck for growth. Rich with vested stock, they lacked both the motivation and often the competence to pound the pavement and get the orders. We understand that a lot of this deadwood was cleared by Mr. Narayana Murthy," Sagar Rastogi and Utsav Mehta of Ambit said in a report titled 'The return of the prodigal firm'.

68-year-old Mr Murthy had last year said that non-performance was the key reason for the series of top-level exits from Infosys.


"He (Narayana Murthy) restructured the organization, made it much more focused, helped bring in greater energy and faster decision making, found a new CEO and left," wrote former Infosys CFO Mohandas Pai
in a column for NDTV
last week.
In the June 2015 quarter, Infosys won orders with total contract value of $688 million, 40 per cent above the average over the past four quarters; more importantly, the company witnessed a sharp drop in annualised consolidated attrition from 26.4 per cent to 19.2 per cent.
Infosys' robust Q1 led two of the most bearish brokerages - Nirmal Bang Securities and Ambit Capital - to change their views on the stock. The former upgraded Infosys to "accumulate" from "sell", while the latter upgraded Infosys to an outright "buy".
Some brokerages, however, struck a cautious note. "One swallow doesn't make a summer," said Emkay Global, suggesting it would like to wait for a few more quarters before turning bullish on Infosys. Emkay has a "hold" rating on the stock.