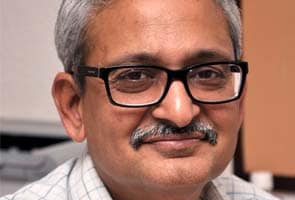 Titan Company Limited shares surged as high as 5.3 per cent today after the company on Friday reported an overall decline in sales but a slight growth in margins particularly in the jewellery segment.

Titan Company chief financial officer S Subramanium, however, told NDTV that he was happy with the quarterly numbers and that it was not fair to compare Q1 of 2014-15 with the corresponding quarter a year ago.

"We need to look at sales in this quarter, and growth vis-a-vis base effect that we saw in Q1 last year. Last year, we had a gold rush because of a fall in gold prices," he said. (Watch)


"In that context, a 7 per cent drop in revenue seems to be a good achievement."
The jewellery maker had on Friday reported a 2.85 per cent drop in net profit at Rs. 177.27 crore for the quarter ended June 30, 2014. (
Read full story
)
On Friday, shares in Titan ended 4.37 per cent lower at Rs 326.15 apiece on the BSE. The stock had fallen as much as 5.88 per cent during the session.

"As expected, the sales income for the company in Q1 dropped by 7.6 per cent largely on account of an unprecedented Q1 of 2013-14 which had witnessed a 47 per cent growth in the jewellery business last year when gold prices fell sharply," Titan had said in its statement.

Net sales were at Rs. 2,853.66 crore during the quarter under review, down 7.58 per cent from Rs. 3,087.79 crore a year ago.

Mr Subramanium further said that margins were better during the quarter. "Last year, we had 15-16 per cent studded jewellery ratio, and this year it's at 25 per cent," he said, adding, "We are also seeing stability in demand."


He also said he was hopeful that things will get better going ahead.
On Monday, Titan Company stock ended at Rs 342.30 apiece on the BSE, up 4.95 per cent from the previous close, outperforming the 30-scrip Sensex that ended up over 240 points, or 0.95 per cent.
'Golden Harvest Scheme'
Mr Subramanium said Titan's Golden Harvest Scheme, which the jewellery maker had said in July that it was to wind down, has been a major contributor to its revenue and that the company is planning on re-introducing it.
"We're looking at reintroducing the programme shortly once we get all approvals," he said. He, however, hinted a slight change will be brought about in the scheme.
Tanishq, the gold and jewellery division of Titan, had scrapped gold deposit schemes Golden Harvest and Swarna Nidhi after the new Companies Act termed these as public deposits. Titan had stopped taking fresh deposits from April 20 from customers, awaiting clarification on these gold deposit schemes.