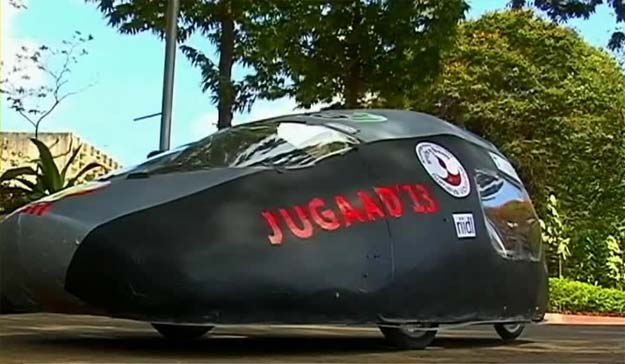 At a time when fuel prices are constantly rising and car companies are struggling with sales, this group of six students from Somaiya College in Mumbai has bunked a few classes, collected some scrap and put together a car that they claim does 300 km in a litre of petrol. (Watch video)
The vehicle is powered by a lawn mower engine and has only three wheels - two in the front and one at the rear.
"In our library was a book named 'Jugaad Innovation'. We were inspired by it. That's why we thought the name Jugaad would be apt for this car," said Kunal Jain, one of the students who worked on the car.
The fibre glass car, which weighs around 60 kg and cost around Rs 4 lakh to build, has to be driven partly lying down, like in a race car.
"We would spend about 8-9 hours on this after college, sometimes bunk college to work on the designs. Then, we visited manufacturing units to get a basic idea," said Tony Thomas, a member of the design team.
The vehicle will now be showcased in Malaysia at the Shell Eco-marathon in July, where cars are judged by their fuel efficiency.
The Indian car market is dealing with its worst sales decline in history after sales in April fell for a sixth straight month as economic gloom and rising ownership costs savaged a once much-vaunted growth market. High interest rates and rising fuel costs didn't help their cause either. And seems like this bunch of bright students has found an answer to that.