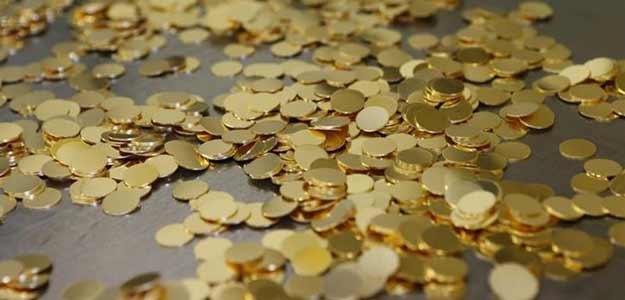 Akshaya Tritiya, considered an auspicious day for starting new ventures, has ended up as being a day when Indians splurge on gold and property. Understandably, jewellers and real estate developers get excited as Akshaya Tritiya nears.

The usual full-page advertisements, announcing discounts and offers on gold jewellery and launch of new residential projects, seem to be missing on this Akshaya Tritiya, a reflection perhaps of the muted economic sentiments.

But gold jewellers are hopeful of strong sales. Mumbai-based Manubhai Jewellers and P N Gadgil Jewellers expect jewellery sales to rise by 20-25 per cent on Akshaya Tritiya this year as compared to last year, a strong jump considering the sluggishness seen in consumer demand.

Analysts, however, warn that investing in gold (through gold fund or gold exchange traded funds) or buying jewellery on this Akshaya Tritiya may not be a prudent thing to do financially. Gold prices are down over 10 per cent in the last one year and nobody's calling a bottom yet.

R. Balakrishnan, an independent analyst, tweeted on Tuesday, "Nice- If you had bought gold Akshaya Trithi last year, you would have lost 12 to 14 per cent through ETF route and far higher if jewellery."
Among global factors, the most keenly important determinant for gold will be the US Federal Reserve's decision on interest rates. Rising rates in the US will strengthen the dollar and weigh on commodities such as gold.
"Gold will suffer when the Fed starts hiking rates. Low inflation and rising interest rates are bad news. Kishore Narne, Motilal Oswal

— R. Balakrishnan (@BalakrishnanR) April 21, 2015

While gold sales may see an uptick despite muted sentiments, property developers are unlikely to have a great Akshaya Tritiya, analysts say. Property prices have fallen by 15-20 per cent across Delhi, according to consultant JLL. In suburbs such as Noida and Gurgaon, where prices have not corrected meaningfully, developers are giving huge discounts because there's an excess inventory, JLL added.

"You should hear the real estate investors crying in Delhi. Down 50 per cent since 2013/14 in some locations," tweeted Monika Halan, a well-known financial expert on personal finance.
You should hear the real estate investors crying in Delhi. Down 50 since 2013/14 in some locations. @BalakrishnanR@govindethiraj

— Monika Halan (@monikahalan) April 21, 2015
There are hardly any takers for property despite the fall in prices. According to global rating agency Fitch, India's property market will improve only by the end of March 2016.
So, what's the best thing to do this Akshaya Tritiya? Analysts say in times of uncertainty, sometimes "cash is king" and that time may be now.