Highlights
One can earn 7% at Fincare on the amount deposited above Rs 1 lakh
ESAF offers 7% on the amount deposited above Rs 10 lakh
Utkarsh Small Finance Bank offers 6% on savings bank deposit
While the interest rates on saving bank accounts are declining faster than ever, it is quite imperative to deposit money in saving instruments that offer handsome interest rates unlike the 3.5% offered by most public sector and private banks. Most mainstream banks, including the SBI (State Bank of India) and HDFC Bank, give an interest of meagre 3.5 per cent per annum (for deposits below Rs. 1 crore). However, if you earn the maximum out of your savings, you can pay open an account in small finance banks such as Fincare, ESAF and Utkarsh.

These are the small finance banks that offer 6% - 7% on savings bank accounts

Fincare Small Finance Bank: For a savings bank account that amounts to lower than Rs 1 lakh, the bank offers an interest rate of 6 per cent. However, one can earn as much as 7 per cent when the amount deposited is above Rs 1 lakh.
ESAF Small Finance Bank: In the ESAF small finance bank, one must deposit above Rs 10 lakh to be able to earn an annual interest of 7%. However, if the amount deposited ranges between Rs1 lakh and Rs 10 lakh, the rate of interest would be 6.5%. The rate of interest slips further to 4% in case the amount of deposit is lower than Rs one lakh.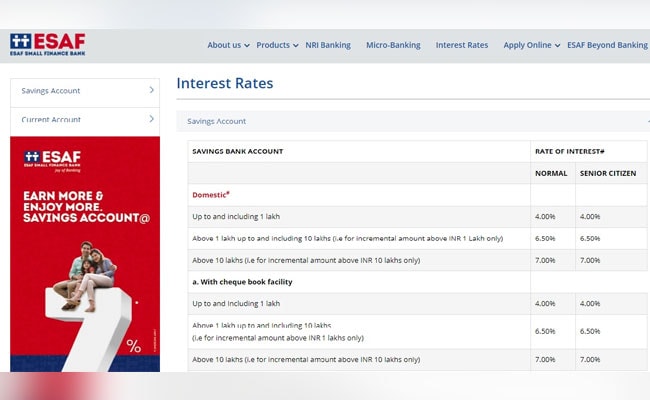 Utkarsh Small Finance Bank: For savings bank accounts, Utkarsh small finance bank offers an interest of 6 per cent per annum.
Follow NDTV for latest election news and live coverage of assembly elections 2019 in Maharashtra and Haryana.
Subscribe to our YouTube channel, like us on Facebook or follow us on Twitter and Instagram for latest news and live news updates.