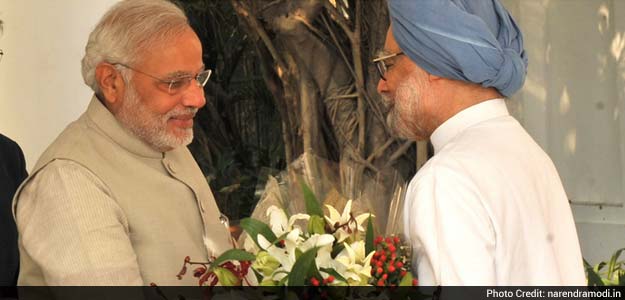 Prime Minister Narendra Modi's first year in office has proved to be a roller coaster ride for equity investors. The Sensex jumped 25 per cent from 23,905.60 (May 15, 2014) to a record 30,024 (March 4, 2015) before witnessing a near 10 per cent correction in the previous three months.
Overall, the Sensex is up around 12 per cent since May 16, 2014, when Mr Modi was sworn in as India's 15th Prime Minister. If compared to the first year under former PM Manmohan Singh, market performance during PM Modi's first year in office has been disappointing.
The Sensex gained around 40 per cent in the one-year period starting May 16, 2009, when voters gave a second term to PM Manmohan Singh. The Sensex is up nearly 16 per cent since May 16, 2014 when voters gave a verdict in favour of Mr Modi.
Many analysts point out that the rally in stock markets began much before May 16, 2014, when Mr Modi emerged victorious in general elections. According to them, the rally that took the Sensex above 30,000 started in December 2013 - January 2014, when a number of opinion polls predicted a victory for the BJP under Mr Modi.
Even by this yardstick, Manmohan Singh's first year's Sensex return of around 40 per cent eclipses the 30 per cent gain Sensex clocked in 2014 calendar year.
Expectations Meet Reality:
(
Read
)
Analysts say the euphoria in domestic stock markets has faded amid growing realization that PM Modi would need more time than earlier thought to push critical reforms such as GST and the Land Bill.
Corporate earnings, the other big factor that drives markets, will also take time to pick up because demand continues to be sluggish. Similarly, investment cycle revival is likely to take more time than earlier thought because of lack of demand.
Foreign investment is the key for domestic markets. The Sensex returned nearly 30 per cent in 2014 because of $14 billion inflows in to equities, while the rupee outshone other currencies because of a record $26 billion into debt.
But FIIs have pulled out around $2 billion out of Indian stocks and bonds in May so far, compared with a net investment of $15 billion in the first four months of the year. The solace for markets, however, is continued buying by domestic institutional investors (mutual funds and insurance companies).
For FIIs to start investing aggressively again, the government has to fast-track reforms as well as ensure that demand is back so that corporate earnings pick up.
Until that happens, markets are likely to remain sluggish, experts say.
Nifty Winners and Losers:
In the one year since May 26, the Sensex has gained around 2,900 points since May 26, 2014, rising to 27,644 as of May 25, 2015 closing. Overall investor wealth, measured in terms of cumulative valuation of all listed companies, has grown by over Rs 10 lakh crore to Rs 1,02,52,461 crore.
Among Nifty stocks, drugmakers such as Lupin (over 90 per cent), Cipla (over 70 per cent) and Sun Pharma (over 65 per cent) have been the big winners over the last year. Private sector lenders such as Yes Bank and IndusInd Bank (both up around 55 per cent), car maker Maruti Suzuki (around 60 per cent) and IT outsourcers such as HCL Tech (around 45 per cent) have also seen a huge rally. Among public sector companies, state-run BPCL (around 40 per cent) has been an outperformer.
On the flip side, energy stocks such as Reliance Industries (down 20 per cent) and Cairn India (down 45 per cent) have underperformed tracking the crash in global crude oil prices. Commodity-related stocks such as Tata Steel and Vedanta (both down around 30 per cent) also saw huge selloff, while state-run banks have failed to attract buyers amid asset quality worries over the last year.