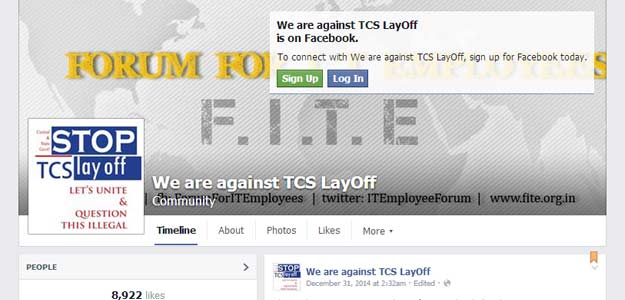 Tata Consultancy Services has had to spend the first few days of 2015 firefighting rumours about mass layoffs at the company. A senior TCS official told NDTV that "non-performers" have been asked to go, but denied reports that the company is firing 25,000 employees.
"Workforce optimisation is a continuous process and this leads to some amount of involuntary attrition...there is nothing out of the ordinary. Only 1 per cent to 1.5 per cent of employees will be impacted," the official said.
Which means that 3,000 to 5,000 employees may have been asked to leave by the company; TCS - India's biggest outsourcer - employed 3.10 lakh people as of September 30, 2014.
Concerned over reports of mass layoffs, some former IT employees have created a Facebook page called "Forum for I.T. Employees", which has already received nearly 9,000 likes so far.
On the page, some of the employees have allegedly posted termination letters, and the headline says, "We are against TCS layoffs."

P Parimala, one of the founders of the forum and an ex-Cognizant staffer, told NDTV that most employees allegedly sacked by TCS belong to the mid-management. Some employees were recalled from offshore projects and handed termination letters, she said.
"Employees who have contacted us complained about lack of communication and transparency... We are planning to approach the government for action," She added.
Asked for a comment, the TCS official said some people want to "leverage the situation" and termed the allegations as "malicious".
Pramod Kumar Srivastava, a Bangalore-based business consultant, says layoffs at TCS have attracted a lot of attention because the number of people reported to be sacked are too high.
"Besides, labelling people as non-performers is not good... People thrown out of a company don't like to be labelled as they have to go and look for a job," he added.
Analysts say trimming mid-level employees is a common practice in the IT industry, where the employee pyramid has got skewed. (Read the full story here)
The quest for higher margins and increasing automation in the IT sector is also taking its toll on hirings. According to Crisil, hirings in the IT sector are likely to drop by 50 per cent over the next four years. (Read the full story here)
For employees, such reports signal the end of a golden era for India's over $100 billion outsourcing sector, which employs over 30 lakh people - nearly one quarter of total private sector jobs in the organised sector.
The layoff controversy comes at a time when IT companies are gearing up to report their December quarter earnings. Q3 results for most IT firms are likely to be weaker because of cross-currency hits and also because the December quarter is considered to be seasonally weak as it has fewer number of working days. (Read the full story here)
Shares in TCS closed 1.52 per cent lower at Rs 2,540.25, underperforming the broader IT sub-index on the BSE, which closed 1 per cent lower.