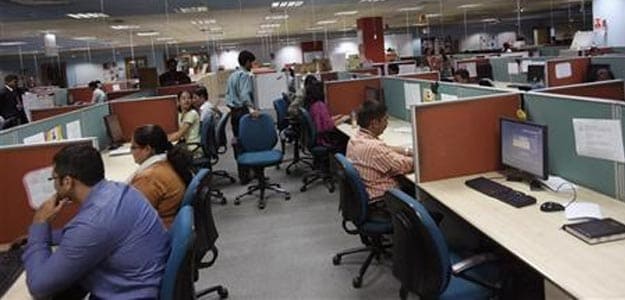 Chennai
: Tata Consultancy Services (TCS), Cognizant and Infosys have emerged as the top employers in the IT-BPO sector, according to a list of 20 leading companies released by industry body Nasscom.
"About 1.25 million, little more than the one-third of current workforce of IT and BPO employees were employed in these 20 firms during 2014-15 financial year," Nasscom president R Chandrashekhar said here on Thursday.
The 20 companies are TCS, Cognizant, Infosys, Wipro, HCL Tech, Tech Mahindra, Capgemini, Genpact, Serco, Global Servics, Aegis, Mphasis, iGATE, WNS Global Services, Larsen & Toubro, Infotech, CSC India, Syntel Ltd, EXL, Hinduja Global Solutions, Firstsource Solutions and Mindtree.
He said the list was based on the headcount of firms with IT-BPO operations in the country as reported to Nasscom.
Listing out the trends faced by the IT industry, he said the HR (human resource) was under a "transition phase".
"HR is in a transition phase and much of the time has been devoted to recognising those transitions and learning from those who have been very successful in making that transition," he said.
As far as talent was concerned, he said, it has been revealed that the focus of the companies on the employees changed from "scale to skill".
"Instead of looking at numbers, focus is on higher skills and knowledge expertise. It is not age and experience which count any more. It is more of a digital impact and expertise," Mr Chandrashekhar said.
"The emphasis has moved from quantity to quality. So, it is not with a degree with which a person comes in or the level at which the person comes in. What are the key skills which the person can be able to bring or acquire and what is the performance in terms of niche areas that actually contribute to the company," he said.
Asked about the hiring activity during the current financial year, he expected that it would remain around six to seven per cent.
"We expect it to be around 6-7 per cent increase in workforce. See this six per cent increase in workforce and the 2,00,000 people is the net addition to the workforce. But, the hiring which is done would be significantly higher because it includes laterals and movements from one company to another," Mr Chandrashekhar said.
On the areas of skills which are looked into by the employers, he said, "Some of the top skills that are required by the employers include in terms of technology, in terms of domain and in terms of skills."
"If you look at technology, it is dominated by data scientists, platform engineering, mobile apps. If you look at domain, it is like engineering, BFSI (banking, finance and services industry), mathematics. If you look at people at individual attributes it is entrepreneurial ability is very high on that list." he said.