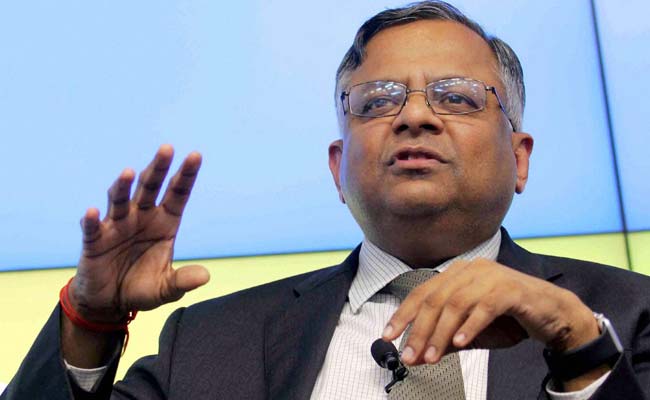 Highlights
A Tata lifer, Mr Chandrasekaran had joined TCS in 1987
He later became the CEO of TCS in 2009
Mr Chandrasekaran shall take charge from February 21
Natarajan Chandrasekaran, the CEO and Managing Director of Tata Consultancy Services (TCS), will be the new chairman of Tata Sons, the holding company that controls the $100 billion Tata conglomerate. Mr Chandrasekaran will be the
first non-Parsi chairman of Tata Sons
. He will take charge from February 21, 2017.
"At the Tata group, we are at an inflection point. I am aware that this role comes with huge responsibilities. It will be my endeavour to help progress the group with the ethos, ethics and values that the Tata group has been built on," Mr Chandrasekaran said in a statement.
Mr Chandrasekaran, 53, has been chief executive of TCS, India's biggest outsourcer, since 2009. He was appointed as a director on the board of Tata Sons days after Cyrus Mistry was removed as chairman of the group in October. He takes over from Ratan Tata, who returned as interim chairman of the group following Cyrus Mistry's ouster. Ratan Tata had headed the Tata group for 21 years before handing the reins over to Mr Mistry in 2012.
"Mr Chandrasekaran has demonstrated exemplary leadership as the Chief Executive Officer and Managing Director of Tata Consultancy Services. We believe he will now inspire the entire Tata group to realise its potential acting as leaders in their respective businesses, always in keeping with our value system and ethics and adhering with the practices of the Tata group which have stood it in good stead," board of Tata Sons said in a statement.
Meanwhile,
TCS has elevated Rajesh Gopinathan
, the current chief finance officer, as the new chief executive.
The announcement was made after a board meeting of Tata Sons held at the group's headquarters Bombay House. Earlier in the day
TCS announced its third quarter results
, reporting a net profit of Rs 6,778 crore, beating the Street's estimates.
Under Mr Chandrasekaran's leadership, the revenues of TCS grew over three times from Rs 30,029 crore in 2009-10 to over Rs 1 lakh crore in 2015-16. The crown jewel of the Tata group also remains the most valuable company in India with a market capitalisation of nearly Rs 4.2 lakh crore.
Mr Chandrasekaran joined TCS in 1987 after completing a Masters in Computer Applications from the Regional Engineering College, Trichy in Tamil Nadu.
Tata Sons had on October 24 removed Cyrus Mistry as chairman in a surprise move and named group patriarch Ratan Tata as interim chief, also setting up a selection committee to find the next chairman. The selection committee included Ratan Tata, Venu Srinivasan, Amit Chandra, Ronen Sen and Lord Kumar Bhattacharyya. All of them, except Mr Bhattacharya, are on the board of Tata Sons.
Mr Mistry's ouster has been followed by a bitter public spat between him and the group. Mr Mistry, who is still a director on the Tata Sons board, has contested his removal as chairman in the National Company Law Tribunal (NCLT), a quasi-judicial body that deals with corporate grievances in India.
Tata Sons has called an extraordinary general meeting on February 6 to remove Mr Mistry from its board. The Tatas have filed a legal notice against Mr Mistry, accusing him of breaching confidentiality rules, and alleging he that he shared "confidential data, business strategies, financial information" related to Tata Sons.
Mr Mistry has alleged breach of governance within the Tata group, a charge that Tata Sons has denied saying it has followed the highest standards of corporate governance.