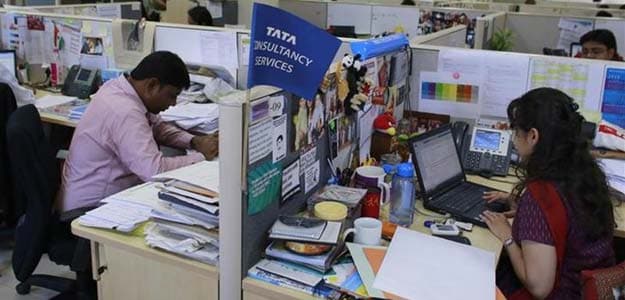 Highlights
TCS posted a profit of Rs 6,317 crore in Q1, beating estimates
TCS' profitability in Q1 was driven by lower-than-expected drop in margin
TCS said attrition rate declined for the third straight quarter
Tata Consultancy Services (TCS) on Thursday posted a net profit of Rs 6,317 crore on sales of Rs 29,305 crore in the June quarter, beating the Street's estimates. This is the second time when TCS surpassed profit estimates, after earlier missing estimates for six straight quarters.
TCS' profitability in the June quarter was driven by lower-than-expected drop in margin and currency gains, analysts said. India's biggest IT services outsourcer's EBIT or operating margin slipped to 25.1 per cent in Q1 versus 26.1 per cent in March quarter on account of salary hikes.
TCS' revenue in dollar terms was slightly below estimates at $4,362 million. Revenue growth in dollar terms was 3.7 per cent sequentially, while in constant currency, TCS posted a revenue growth of 3.1 per cent.
"Strong execution and accelerating customer adoption of cloud, big data and analytics has driven broad-based growth across key markets and industries," said N Chandrasekaran, CEO and MD of TCS.
TCS said 15.9 per cent of its Q1 revenue was from the fast-growing, high-margin digital space. The company added six new clients in the $20 million-plus band, while four new clients were added in the $50 million-plus band.
TCS said it posted incremental revenues of $155 million in Q1, the highest in seven quarters, on account of robust growth across core markets.
TCS added a total of 17,792 employees in the June quarter, with net additions at 8,236. The attrition rate declined for the third straight quarter, it added.
TCS also announced a dividend of Rs 6.50 per share for shareholders. TCS shares closed 1.16 per cent higher at Rs 2,521.90, outperforming the broader Nifty that closed 0.53 per cent higher.